Dubai-Prague
Part two of our near-on 24 hour commute commenced in Dubai airport, a sweltering mess of stale cigarette smoke and body odours where commuters from all over the world mingle on their way to other places.
Our first port of call was the Emirates lounge, where I collapsed in a heap, while Vanessa headed off into the hive of commercialism downstairs to find me a new t-shirt, as my current one was now decidedly funky. $AUD 90 later, and I'm now the proud owner of a pale yellow t-shirt with three stripes on the sleeve.
Once she had returned, I staggered off to the showers, turned the tap right down to the coldest setting, and stood there for about 10 minutes while the water fluctuated between lukewarm and scalding. After changing clothes and returning to the lounge, we sat for an hour or so before we were faced with a twenty minute walk to the next terminal. At one point we had to pass directly through a designated smokers area of the lounge, (the curse of Dubai airport), and at this point whatever little remained in my stomach decided enough was enough, and I was forced to find a toilet once again.
I'll save you the further gory details of the flight, which involved lots of sleeping, (or dozing anyway) followed by a repeat of the previous landing sequence, although by this stage I'd worked out that it was best to have some pre-opened baggies on hand, so further clothing changes were unnecessary.
The seating arrangement on the Boeing 777 Emirates Business Class was in a 2-2-2 configuration at the front of the plane, and the bed was again a lay-flat setup. It wasn't a patch on the A380 design, but still a damn site better than anything we'd previously encountered in cattle-class.
Once again, the crew were awesome – the supervisor asked me a few questions before we took off and advised me that if I needed to see a medical examiner it could be arranged, but it would mean missing the flight – I assured him that I was OK to travel and he and the rest of the crew made sure to check in on me throughout the flight. Such a shame that I didn't get much of a chance to enjoy their hospitality, although whenever I did wake up I noticed that Vanessa's Moet glass was freshly topped-up and she informs me that the roast chicken lunch was quite delicious.
We landed in Prague a little before the scheduled 1:00 pm local time, and after a very brief and efficient trip through customs, marred only by a customs officer who'd obviously just recently had his personality removed, we were greeted in the lobby by not only the Emirates chauffer, but also the representative from Scenic Tours (who we'd previously been assured would not be there to pick us up). We stuck with the original plan and were driven to the hotel by a very friendly Emirates driver who could speak English just well enough to hold a conversation, and waxed lyrical about his home town of Prague. Once again, Emirates should be proud of the fantastic service they offer.
As we approached the old town he pointed out the castle district, and the motorcades of police escorting the presidents of different nations around, as Prague is currently hosting an EU summit. I had to laugh as we made our way past a park outside the main railway station. "It's OK during day, but very bad place after dark" our driver commented. "Many homeless, lots of drugs, lots of police… anyway, here's your hotel".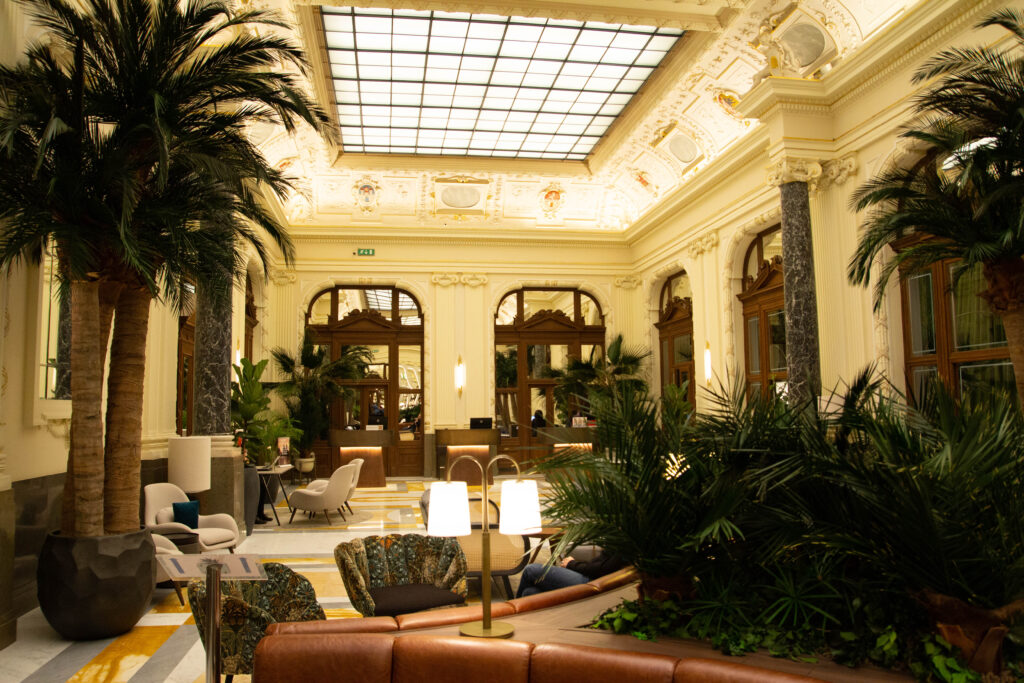 Speaking of hotels, we are staying at the Hotel Carlo IV by NH Collections, just on the edge of the old town of Prague, housed in a building which was once the headquarters of Prague's first mortgage bank. It's very opulent, with grand facilities and the beds are also really comfortable. We were met at the reception by our Scenic Tours guide Pavlina, who handed us our room key and sent us on our way. After a quick nap and a freshen up, we set off on a quick walk around the local streets.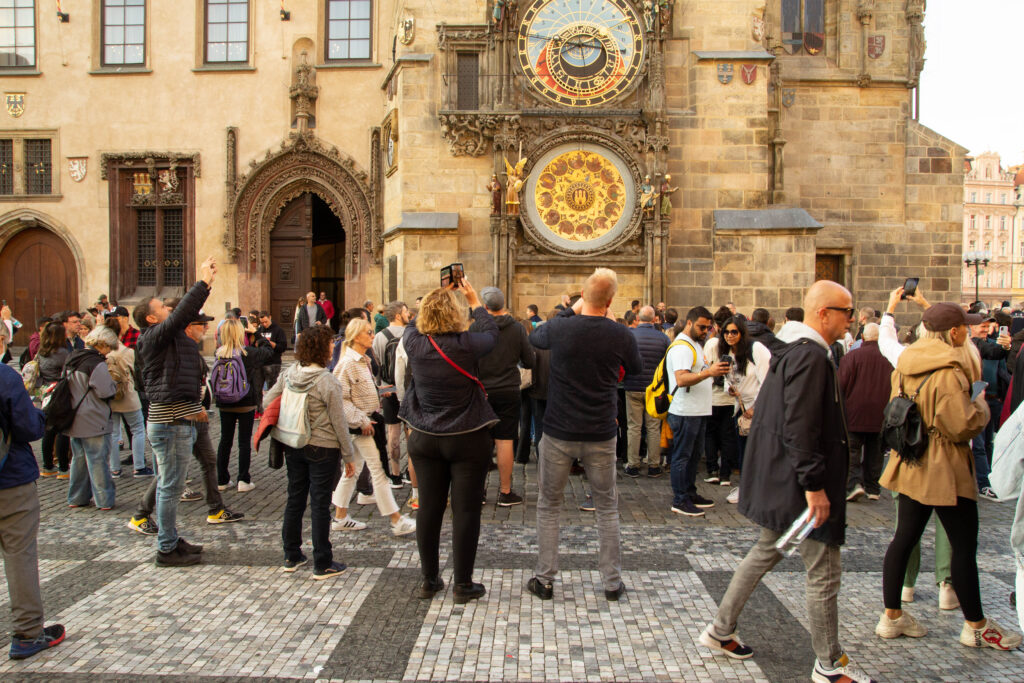 Pretty soon we found ourselves in the old town square, and directly across from the astronomical clock, where a crowd had already gathered to watch the hourly display. As this was to be one of the "highlights" of our tour tomorrow, we resisted the temptation to stand shoulder to shoulder with hundreds of other tourists, and move on.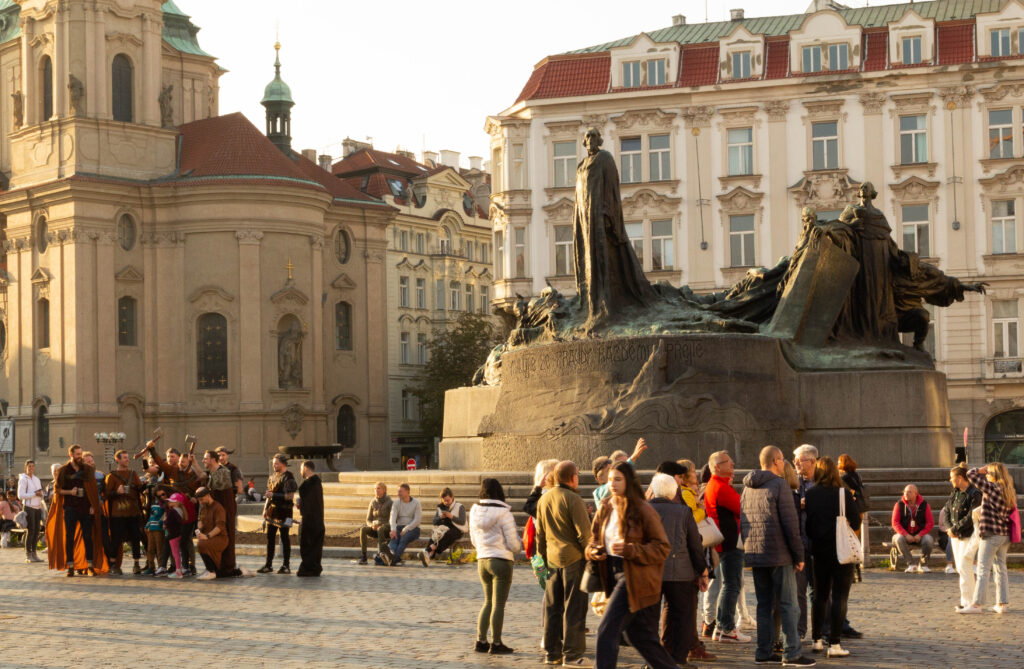 From the centre of the square we could hear the loud guttural cheers from a bunch of British lads, dressed as Vikings (because, why not?) and obviously on some sort of pub crawl or stag do. This being a Friday night, it turns out that they were not the only ones, and each group we encountered seemed to be doing their best to out-do the previous. Suffice to say, there were going to be a lot of sore heads in Prague come Saturday morning.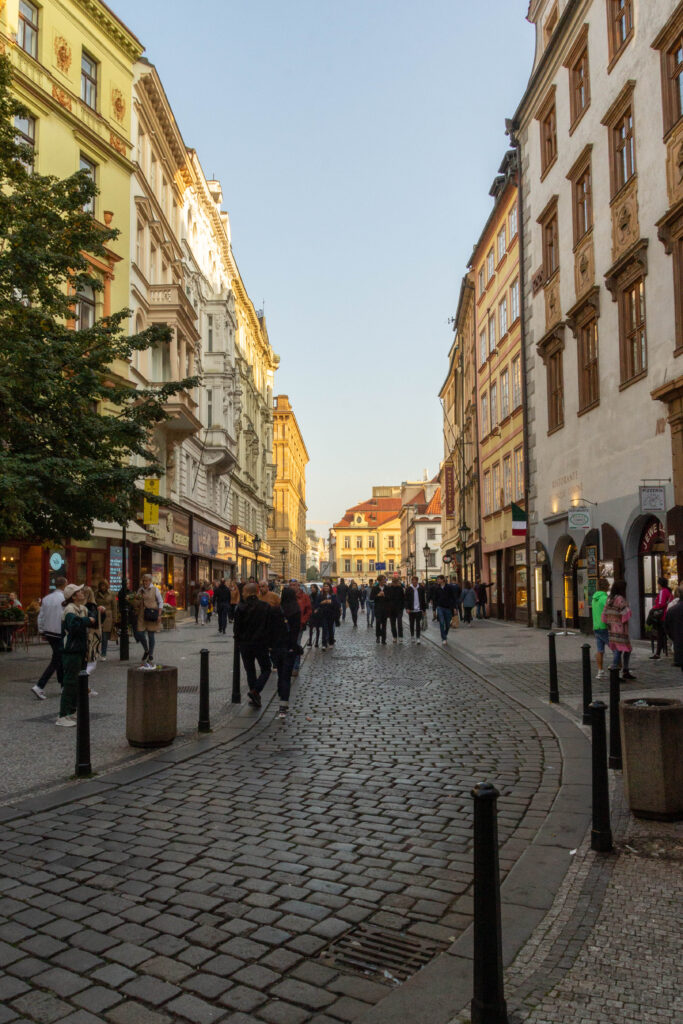 We followed the crowds through several narrow cobblestoned streets until we looped our way back towards the hotel, where an introductory presentation was due to take place. Our guide for the next few days, Pavlina explained how the tours would work, and offered us advice on where to eat, where to shop and how to get around. She explained the importance of getting a decent head of foam on a Czech beer (if you're not getting foam on your beer, you're probably drinking donkey piss) and the importance of making use of the restrooms wherever you found them (you never know when you'll get a chance to go pee-pee again). After the talk and a few complementary champagnes (although I stuck to the multi-vitamin vegetable juice) we headed back outside for an orientation walk that pretty much retraced our steps from the afternoon.
We finished our walk at Náměstí Republiky (Republic Square), where we had a chance to stock up on some supplies for the fridge before heading back to the hotel for dinner. Vanessa ordered a scrumptious looking burger, but after two days of not eating I decided to go easy on my tortured tummy and ordered a duck prosciutto salad that turned out to be absolutely divine. With my dizziness finally starting to ease, we headed off to bed for a well earned sleep.