Axedale-Melbourne-Dubai
Not a lot of photographs to accompany this post I'm afraid, for reasons that will become abundantly clear as we go along.
The lead-up to our trip hadn't gone exactly to plan, as consistent downpours in the week prior had caused our usually placid creek at the back of the property to burst its banks, pushing all manner of debris up against our fences, and straining against them until they fell. With the help of one of our fantastic neighbours we were able to stand them up again at least to a point where the sheep couldn't get over them.
Then, on the Tuesday and Wednesday we had more rain, and on Thursday morning, as we were making our last minute arrangements before heading out to the airport that afternoon, we watched again as the creek rapidly rose, coming within inches of again bursting its banks, but eventually peaking just short. By the time we left for the airport at three that afternoon it was still just shy of two metres deep across the O'Brien's Road crossing, but it was dropping just as quickly as it rose.
We arrived at the airport at around 4:30 pm, having braved the chaos that is the airport BP service station along the way, and despite all of the horror stories, the international terminal was practically deserted. In fact, apart from a large, but fairly normal queue at the Singapore Airlines check-in desk for a flight that was leaving in two hours time, things were really quiet. The Emirates desk hadn't opened yet, so we sat down and waited for that to happen.
At around 6:00 pm the desk opened and we checked-in seamlessly – having Business Class priority certainly helps, but even the Economy Class queue seemed to be moving relatively quickly. Customs was even less of a chore – in and out within about five minutes, which left us around three hours to enjoy the facilities of the Emirates lounge.
I have to say, I was very impressed with the standard of the facilities in the Emirates Business & First Class lounge at Melbourne – very clean, very tastefully presented and a lovely quiet spot to sit and enjoy a tasty bite to eat while you people watch. Vanessa and I both had an amazing lamb-shank pot pie, along with cheese and dips, and a delicious coffee and fig crème brûlée.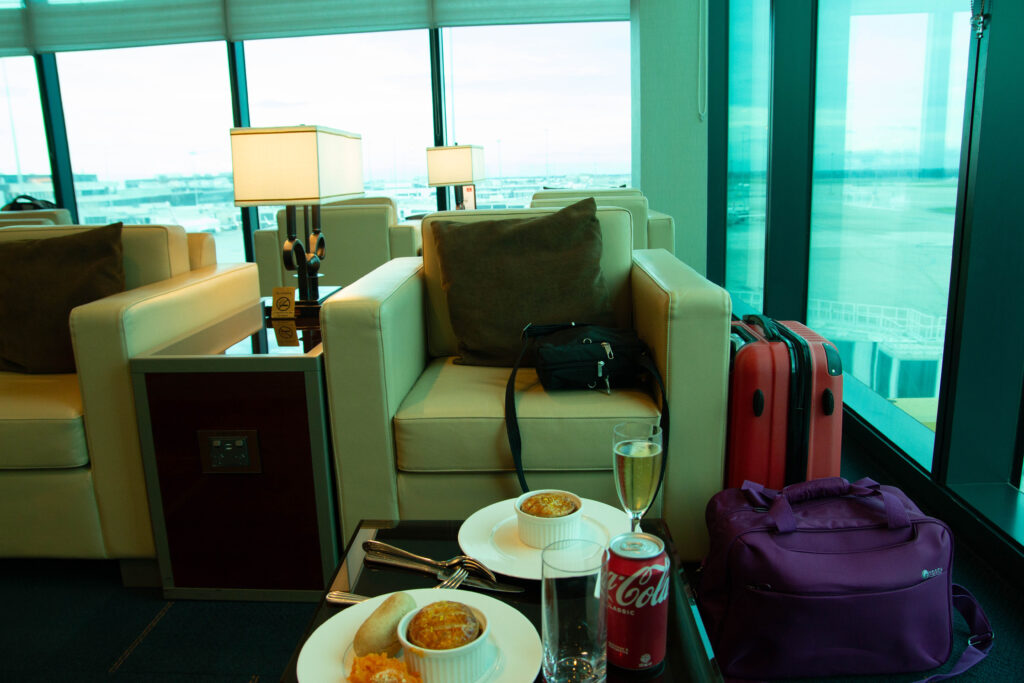 By 9:00 pm we were making our way down to the terminal, where boarding started at 9:15 pm and we were well and truly underway before our scheduled time of 10:15 pm. The Emirates Airbus A380 Business Class seating is truly amazing, with plenty of room and beautifully appointed seats. Vanessa and I had selected seats 20E and 20F, which were together in the centre aisle.
A word of advice if you're travelling on Emirates Business Class on an A380 – the seats are arranged in a 1, 2, 1 pattern across each row, but they are in a staggered formation. The even numbered rows have a window seat on each side and the two centre seats are together (which gives you more privacy on the aisle side), while the odd numbered rows have seats that are closer to the aisles – making the centre seats a good option if you want more privacy from the person sitting next to you, but placing you closer to the aisle.
Not that there was much traffic in the aisles – most of the flight was in darkness, and because the upper deck is made up entirely of either First Class suites or Business Class seating with lie-flat beds, nearly everyone took advantage of the chance to get some shut-eye. In fact I lay my bed flat at the first opportunity, while Vanessa watched a little bit of TV first.
The beds are extremely comfortable and there is so much room that most people shouldn't find any problem – I am 5'10" and there was at least another foot or so of leg-room available for me. My only gripes would be that in the centre seats there's not a lot of stowage room (the window seats have better storage lockers) and overall the cabin temperature was too warm for sleeping comfortably. Still, I did manage to sleep in stages throughout the journey, and woke at about 5:00 am Melbourne time for a trip down to the bar.
Yes, you heard it right, the Emirates A380 has a bar in Business Class! Unfortunately despite the hours of dozing, I couldn't shake the tiredness, or the fact that my body clock was telling me it was early morning, so Ness and I both opted for a pineapple juice rather than a Moet (although I think Ness had managed to sneak in a few quiet ones earlier while I slept).
We sat and chatted to a few people before making the classic mistake of ordering hot coffees – which immediately triggered a bout of turbulence that lasted the next 30 minutes. Luckily the bar seating is equipped with seat belts, so we got to ride it out there while we chatted with a lovely lady who was off to Barcelona to join the QEII for a trip back to Australia via Greece.
I'd been slightly worried that I was underdressed for the bar, still being in my tracksuit pants and ugg boots, however those fears were soon allayed when a rather curvaceous young lady who was obviously well acquainted with the finest cosmetic surgeons money could buy wandered past on her way to the loo, in a sports bra that would have had to have been made from some of the strongest material on the planet, and a pair of silky shorty pajama pants that didn't leave much to the imagination. Judging by the crews' reaction, this was probably the point at which certain boundaries had been crossed.
Speaking of the crew, they were without a doubt the best we'd ever encountered – friendly and attentive and an absolute pleasure to fly with. Sadly, this post should have ended here on a high note, except that, having returned to our seats for landing, we struck some more turbulence as we came in to land, and by the time the plane had reached the terminal, I was in the throes of a terrible bout of motion sickness, with Vanessa and the crew frantically searching for airsickness bags and towels. Again, the crew were amazing, but I do have one issue with the airline – who in the hell though it would be a good idea to design an airsickness bag that has a sealed, perforated edge that needs to be torn off before use? Whoever it was should be directed to the clean up in Aisle 20.
So after a wonderful, thoroughly enjoyable 13 hour flight, it all went pear shaped in the last 10 minutes. And so began the journey off Emirates EK407 and into the fetid pit of hell known as Dubai airport.