Imagine you are about to buy a new car. You know what you want, a compact four-door sedan that will get you from point A to point B with little fuss. You have a limited budget, but enough that you should be able to afford something nice. So you head down to the highway, where a number of car dealerships line both sides of the road.
At car dealer A, they're selling the car you want. It's the basic model, well within your budget, without any bells and whistles. Car dealer B next door has the same vehicle, but with leather seats and a metallic paint job. They're a bit more expensive, but at the end of the day, it's the same car, just with a bit more flair. Is that extra bling worth paying a premium for? Across the road at car dealer C, the basic model that dealer A was selling costs the same as the upgraded version that dealer B is offering, but here you'll also get free servicing for 12 months and free roadside assist. Meanwhile, next door at car dealer D, the upgraded model will cost you even more again, but they'll also throw in free satellite navigation on top of the servicing and roadside assist that dealer C is offering. Unfortunately, you only get one wheel included in the price of their car – if you want the extra three that will cost you another $250 each.
Confusing, right? But now imagine how confusing it would be if they all claimed to be the most "All-inclusive" dealership on the block?
Welcome to river cruising.
Our first river cruise with APT was described as all-inclusive, and for the most part it was. Gratuities were paid and drinks were included 24/7 with a good range of wines and spirits provided and only premium wines, spirits and cocktails at an extra cost. Airport transfers were provided and ALL excursions were included in the cost, including things like entry to the Van Gogh museum and dinner at Namedy Castle. Laundry was extra (and very expensive), and a butler service was provided to only a handful of premium suites (although we were lucky enough to be upgraded to an Owner's Suite, so we enjoyed extra services that weren't provided in the cost of most suites). There was a café onboard that had free pastries, biscuits and coffee/tea making facilities all day, and free fitness sessions each day. There was onboard entertainment every evening and lots of information sessions and audio updates throughout the cruise.
Our second trip was with Uniworld, and what a contrast it was. Uniworld claim on their website to be "The Most All-inclusive". They are not. This statement is not only misleading, it is a blatant and easily provable lie. In fact I can't understand why companies like APT or Scenic haven't filed complaint with Ad Standards over it, as they are drawing customers away from them. We certainly fell for all the spin about all-inclusive and 6-star travel, much of which turned out to be completely bogus. Uniworld claim to have an ample selection of premium spirits and fine wines included in the cost, when nothing could be further from the truth. They had far less range available in their included wines than APT, and the terms "premium" and "fine" seem to have been given a very liberal interpretation. They also claim that there is a "choice of several excursions per day", without mentioning the fact that not all of them are included in the cost. In fact what would be regarded as a fairly run-of-the-mill excursion with APT or Scenic often requires extra payment with Uniworld. There was very little onboard entertainment and not one extra bit of information or updates provided while cruising, apart from the nightly briefing session. They did have a free laundry though, which was a welcome touch. All-in-all however, Uniworld are more like the car dealer who offers you all the bling, but then wants to charge you extra for the wheels.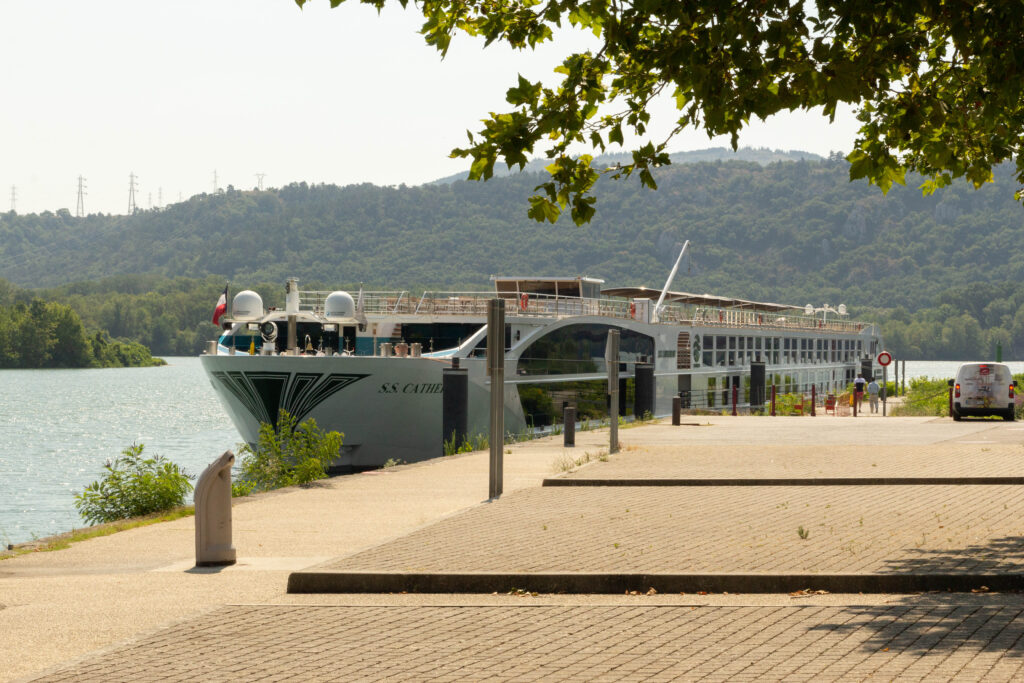 Our next trip, coming up in October is with Scenic, who claim on their website to be "truly all-inclusive". From what I can see from my research (which I will admit has been far more extensive this time around), Scenic do seem to be the closest to being able to make that claim, with everything that APT offers included in the price, as well as a butler service to nearly every room on the ship. Time will tell I guess.
But what of other companies?
Both Scenic and APT have "budget" arms, Emerald and Travel Marvel respectively, that offer similar itineraries, but at a reduced cost. In return, they will have less inclusions – for instance, alcoholic drinks might only be free with meals and if you wanted a drink during the day you would need to pay extra for it. Companies such as Viking and Avalon also fall into this category. The reduced number of inclusions also applies to on-shore excursions – in most cases there will be a basic walking tour provided for free, but you will need to pay extra for things like wine-tasting excursions, or trips to a local castle.
Don't get me wrong, I fully appreciate that there are plenty of people wanting to do these trips who don't want to drink cocktails after dinner or visit every castle, winery and museum, and for these people this kind of cruise would be perfect. So long as the savings are passed on to you in the form of a cheaper fare than what you'd expect to pay on an all-inclusive cruise, then I'm all for it.
One thing where the budget lines definitely don't seem to scrimp on is the quality of their suites. In fact, companies like Avalon are the equal of anyone on the water when it comes to how their suites are fitted out, and even the budget arms of the two Aussie companies have rooms that are comfortable and well appointed.
But how much exactly are you paying in extra costs to get "all inclusive"? A quick glance at the 15 day trip from Amsterdam to Budapest for September 2022 shows that in some cases, it's actually not a lot. APT for instance, are charging $8195 pp twin share for their basic suite (which you'd really want to upgrade), while Travel Marvel are charging $6295 pp. Emerald are $7725 pp and Scenic are $8595. Uniworld's pricing was unavailable at this time, however we've found them generally to be in the higher range, while Avalon and Viking fall somewhere in between Travel Marvel and Emerald. It's pretty much a case that before booking any of these cruises, you need to go through each company's terms and conditions to find out exactly what is included as bang for your buck. ESPECIALLY if they're claiming to be "all-inclusive".
And you thought buying a car was confusing? 🙂