Prague to Budapest via Bratislava
Sadly, all good things must come to an end, and today it was not only our wonderful pre-cruise stay in Prague, but also our time with our Tour Director Pavlina, a truly outstanding person and an absolute jewel in the crown of Scenic Tours.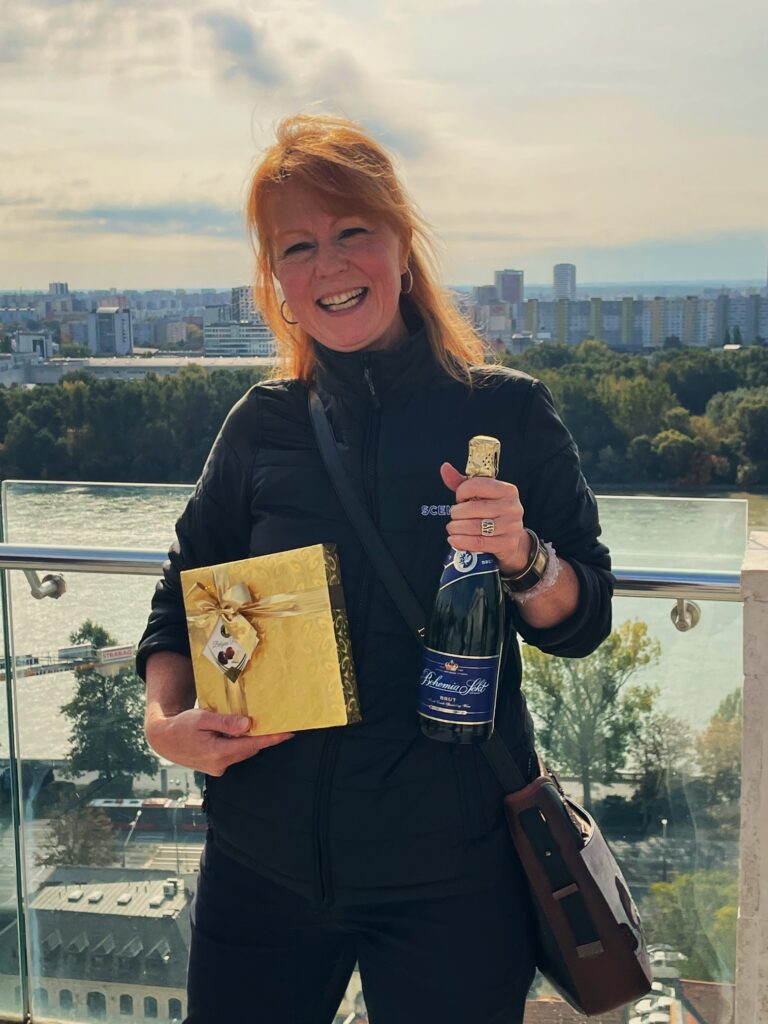 The day started early with a collection of our luggage at 6:50 am to be loaded onto the coach, followed by a final breakfast at the hotel, before we boarded the coach and set off through the Monday morning traffic just before 8:00 am.
The trip through the Czech countryside was quite remarkable. Once we had left the hustle and bustle of the city behind it was really interesting, especially to someone who has recently moved on to a hobby farm, to see just how the Czechs make use of the landscape. One thing that was quite noticeable was the way the paddocks followed the contours of the land, with large swathes of woodland left untouched between them. I couldn't help thinking that in Australia we would most likely have bulldozed all of that 'scrub' and levelled it off.
Pavlina explained that the road was a lot busier with trucks this morning due to the fact that they are not allowed to drive on the motorways on Saturdays and Sundays and must instead be parked up in the truck parks that are dotted along the motorways throughout the country. The trucks are also speed limited to 90kph, buses to 100kph and cars to 130kph. All the way along, whenever the road would start to climb a steeper hill, a third lane would appear and the trucks would dutifully shift across to the right to allow the faster traffic to whizz by. A thoroughly sensible system if you ask me.
We stopped briefly at a motorway fuel stop for a chance to stretch our legs, "make a pee-pee" in the cleanest service station toilets you're ever likely to see, and to spend up the last of our Czech Korunas, which would be useless to us now for the remainder of the trip. Surprisingly, the shop there sold some pretty good quality wines and chocolates, so a few of us pooled our resources and bought some as a thank you gift for Pavlina.
Back on board, we were soon crossing the border into Bratislava – thankfully there were no border stops on our side, however on the Czech side there was a queue of traffic for nearly a kilometer as police were checking passports – Pavlina was explaining that this is becoming a regular thing lately due to the mass migrations of people displaced by Putin's war on Ukraine.
Another hour or so slipped by as we headed to the Slovakian capital of Bratislava, where the coach climbed its way up a very steep hill before dropping us off at the Parliament Restaurant, sandwiched between the Slovakian Parliament building and the old castle and offering stunning views across the Danube River and to the mountains beyond.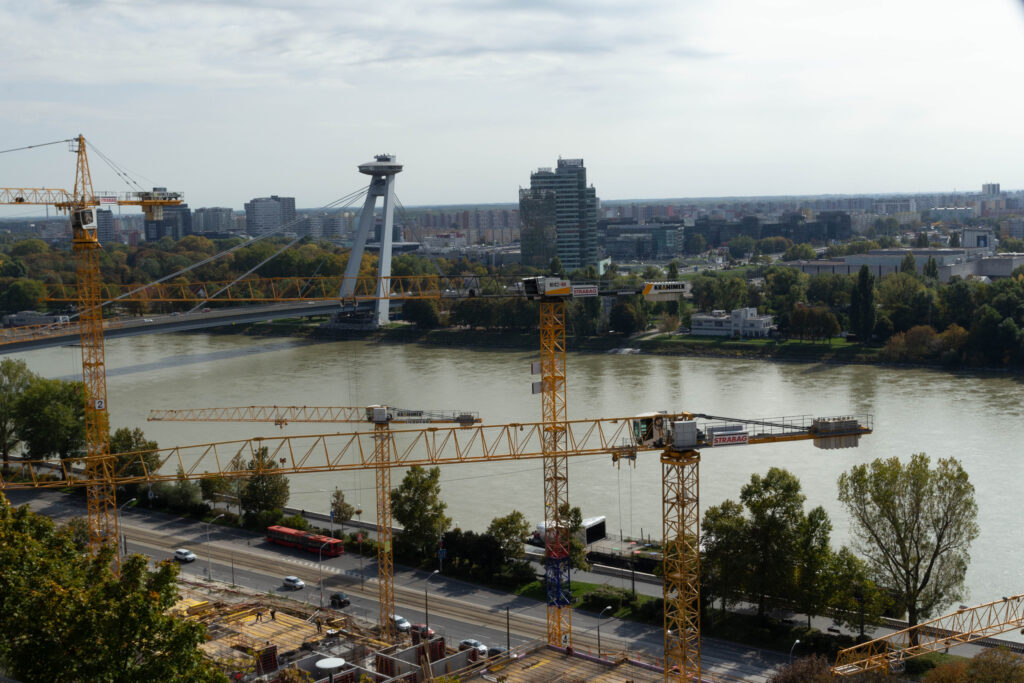 The meal was an excellent selection of local fare – a hearty vegetable broth with loads of chunky broccoli, followed by a pork schnitzel served with delicious buttery boiled potatoes and washed down with some tasty local beer. After the meal we headed back outside to enjoy the view for a final time, and to present Pavlina with her gifts – she was very chuffed and declared that we were her favourite group ever 🙂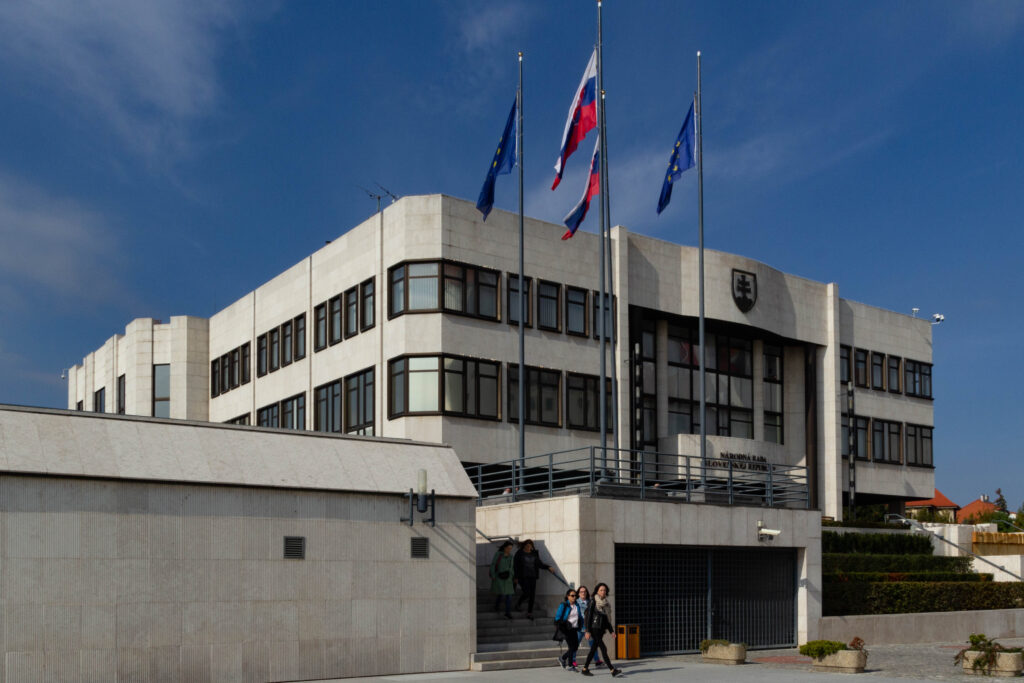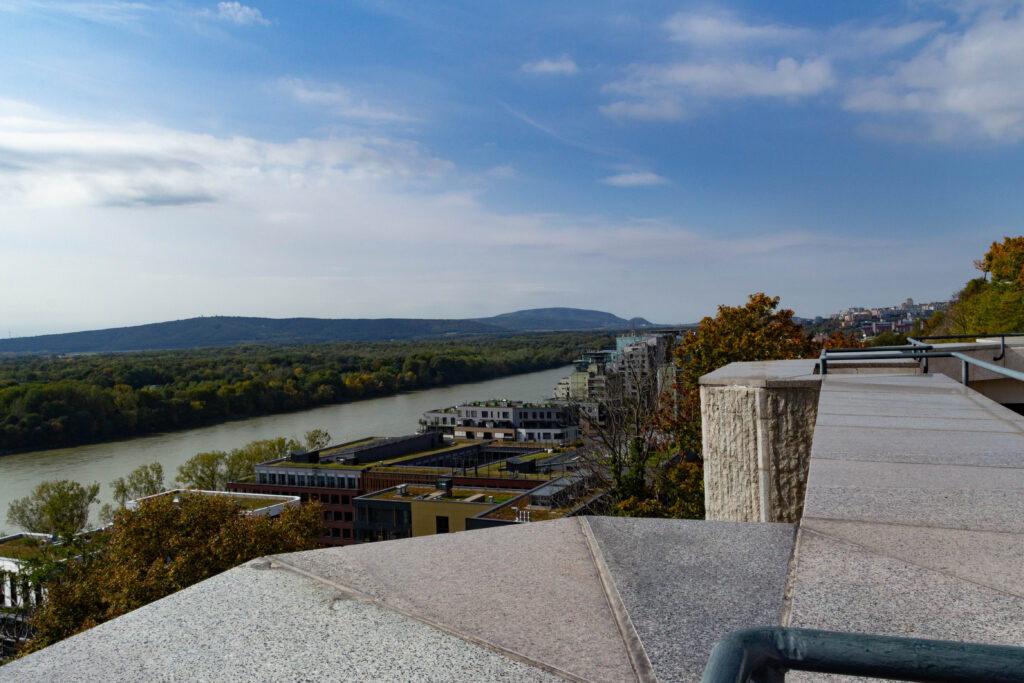 Back on the bus and another two hour drive awaited us – very soon after leaving the castle and parliament district we were crossing our second international border for the day into Hungary. The rest of the trip was uneventful, and we arrived at the boat at around 3:30 pm.
After a quick whistle-stop tour of the main lounge and a welcoming glass of champagne, we were given our room keys and we were able to unpack our luggage for the last time for the next 14 days, all the while watching the river traffic go by from our balcony window. Our butler Haris knocked at the door to introduce himself and to give us a run through of all of the ship's facilities, which includes a complimentary unlimited laundry service – something we're desperately in need of already. I'll do a full tour of the cabin and ship with photos a little later in the trip.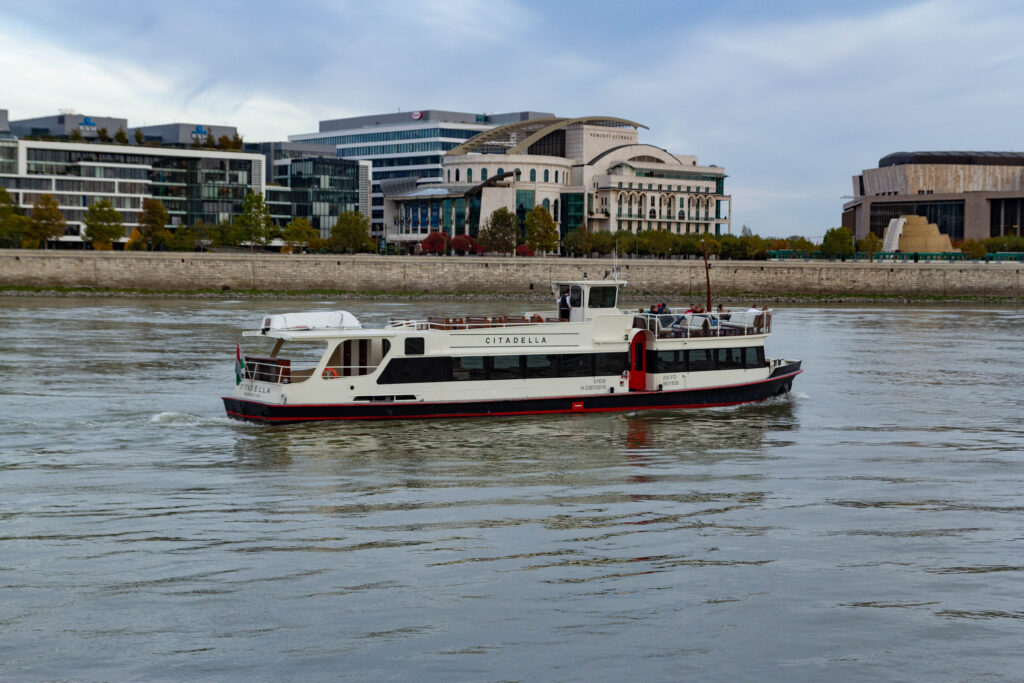 The cruise director who had been assigned to our ship had taken ill, so his replacement Sim greeted us in the lounge for the evening port talk at 6:30 pm. He told us that he was set to head off in a couple of days time to join a different cruise in Amsterdam before being called up at 4:30 pm, so he'd run from his home in Budapest down to the ship and donned his uniform just in time for the talk, after which he intended to run back, pack his bags and leg it back to the ship while we were all having dinner. He invited us all back to his apartment for coffee, but he said not all at once, because his apartment is about the size of our cabin's toilet.
Dinner in the Crystal Dining Lounge was a selection of several local options, along with the usual choices such as steaks or salads. Vanessa and I started with a Chicken roulade, then Ness followed with a steak & fries, while I went with a Hungarian Goulash that was quite delicious. There was a fantastic choice of wines on offer, and having already spoken with Haris about our wine preferences back in the cabin earlier, he had prepared a bottle of crisp German Riesling for us in advance – a fantastic touch. It was a magnificent dinner all round and a great way to start the cruise.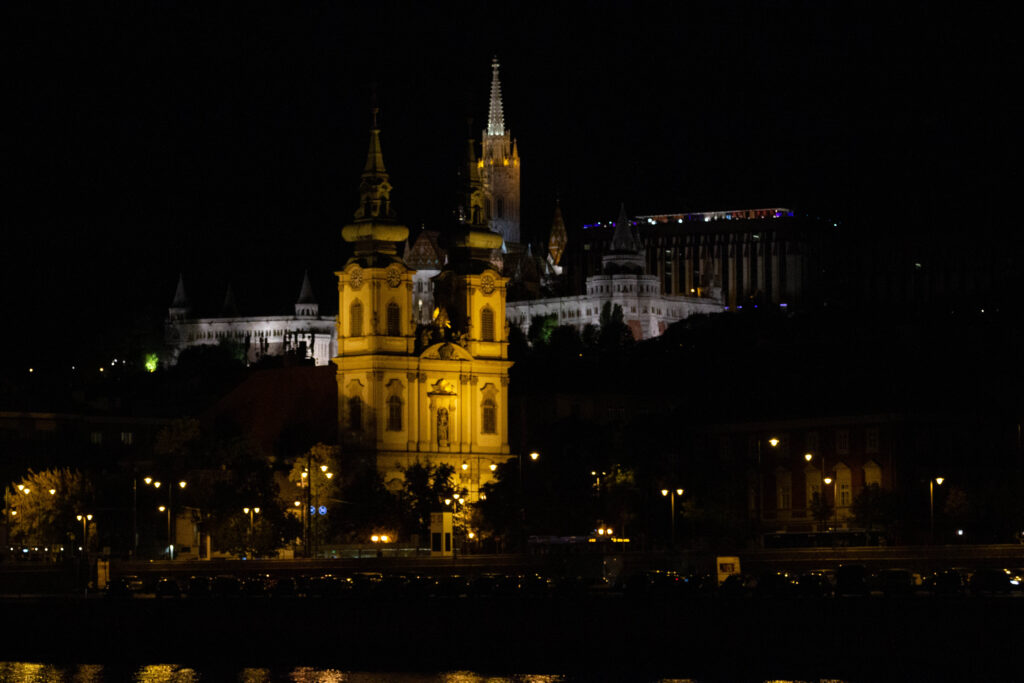 As we ate, the ship moved off from its moorings, which were actually quite a way out of town. This is because the previous practice of every cruise boat in Budapest doing laps up and down the Danube to see the lights has now been banned, however ships are still allowed to cruise at night, so long as they are moving towards their mooring. Scenic had therefore arranged for a mooring right in the centre of town, meaning we got a great view of the city's magnificent buildings at night as we entered the city proper.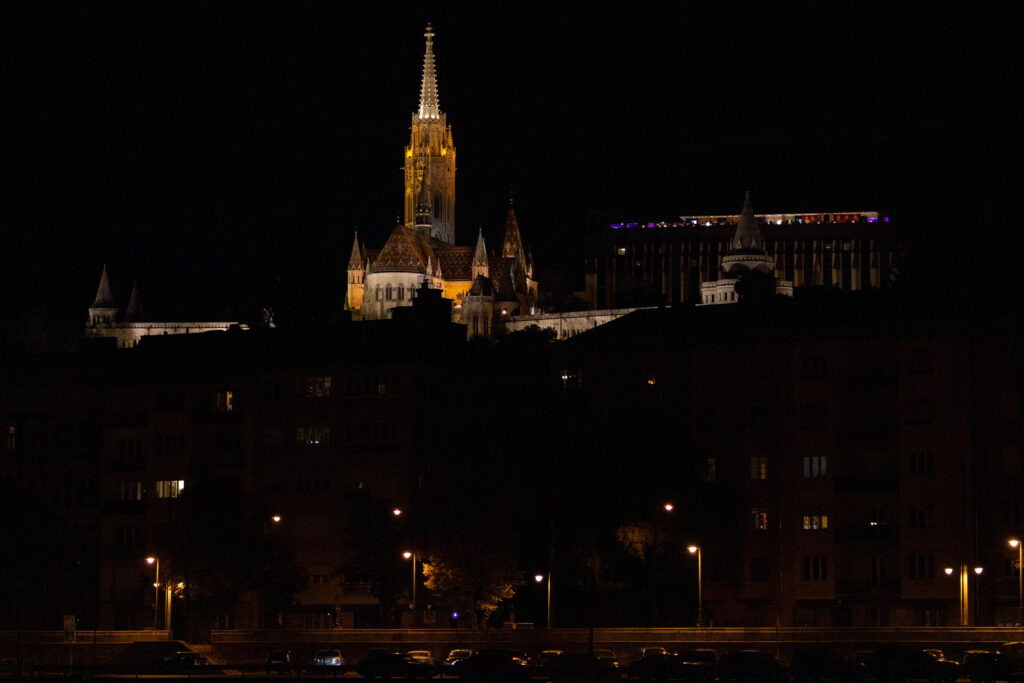 Unfortunately our cabin was on the wrong side of the ship to see the parliament building this time around, and with the temperature dropping to single figures as soon as it got dark I really didn't feel any great urge to head on to the roof to take photos, but I did manage to get a few nice shots from our room of the Buda side of the river before heading off to bed.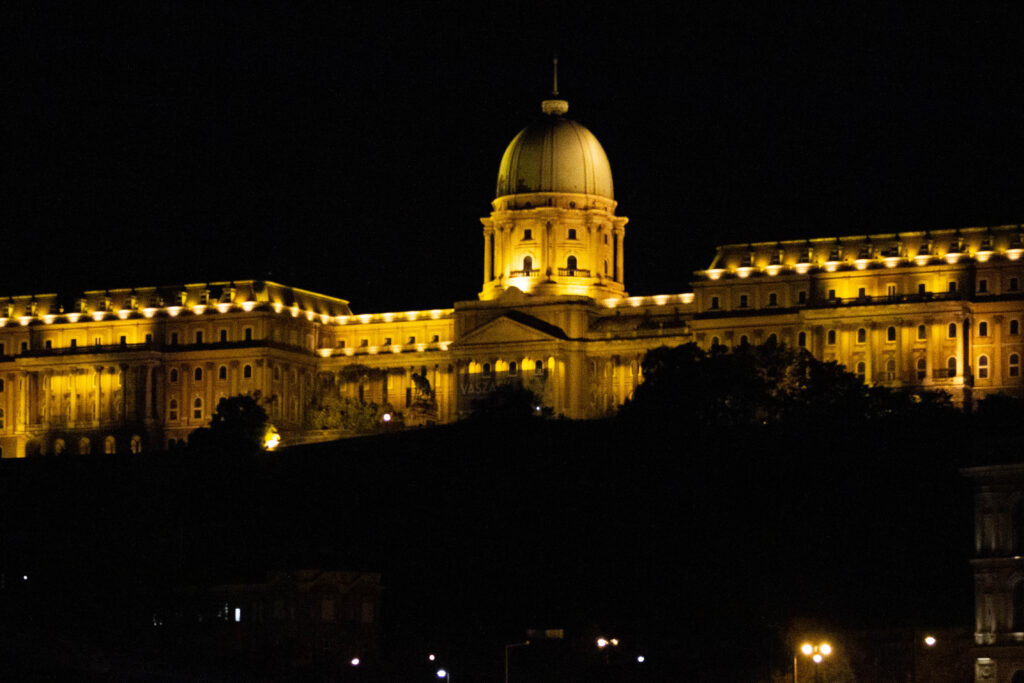 Tomorrow we head into Budapest to visit the Szecheny Baths – a magnificent complex featuring thermal baths ranging from 14 to 42 degrees Celsius. With a temperature forecast of around 21 degrees, it should be a great day for a swim.