Rothenburg ob der Tauber
A fairytale village on the romantic road
One of the highlights of any Danube-Main-Rhine cruise is a trip to Rothenburg ob der Tauber, on the Romantic Road. Actually, the Romantic Road is a term devised in the 1950s by commercial travel agents to describe a themed route of sealed roads between Würzburg and Füssen, but one which for much of its way follows ancient trade routes that date back to Roman times.
This town, often simply referred to as Rothenburg, is more properly known as Rothenburg ob der Tauber (Red fortress on the Tauber River) – there are actually several other Rothenburgs in Germany. This one sits high above the Tauber River (which is really nothing more than a stream), and is generally regarded as one of the best preserved medieval villages in all of Germany, with a defensive wall and tower system that is still largely intact and climbable to this day.
It is often referred to as a fairytale village, or a Christmas village, in part due to the fact that it is home to the Kathie Wolfhart Christmas Museum and several large Christmas decoration stores, and also due to the fact that it features heavily in traditional German Christmas images. It was the setting for the original Disney production of Pinocchio, and also featured in the film Chitty Chitty Bang Bang, among others.
As we entered the town, one of our first stops was to photograph the famous view of the half-timbered building Plönlein along with Kobolzeller Steige and Spitalgasse, a scene made famous by Disney, but one that features heavily in most tour brochures and also in a very infuriating jigsaw puzzle that Ness and I own. It's not an easy spot to get a picture of without also including multitudes of tourists and cars – you have to set up your shot and wait patiently, as invariably whenever there is a break in traffic, one halfwit on foot will wander in front of your view with their iPhone raised up, flash blasting away. Bloody tourists…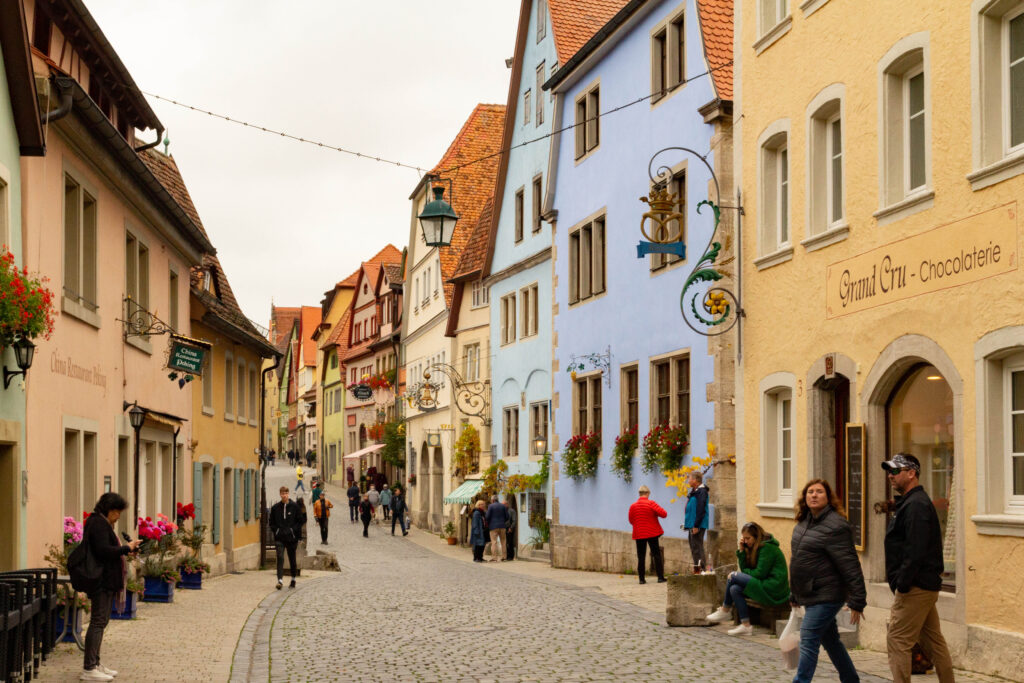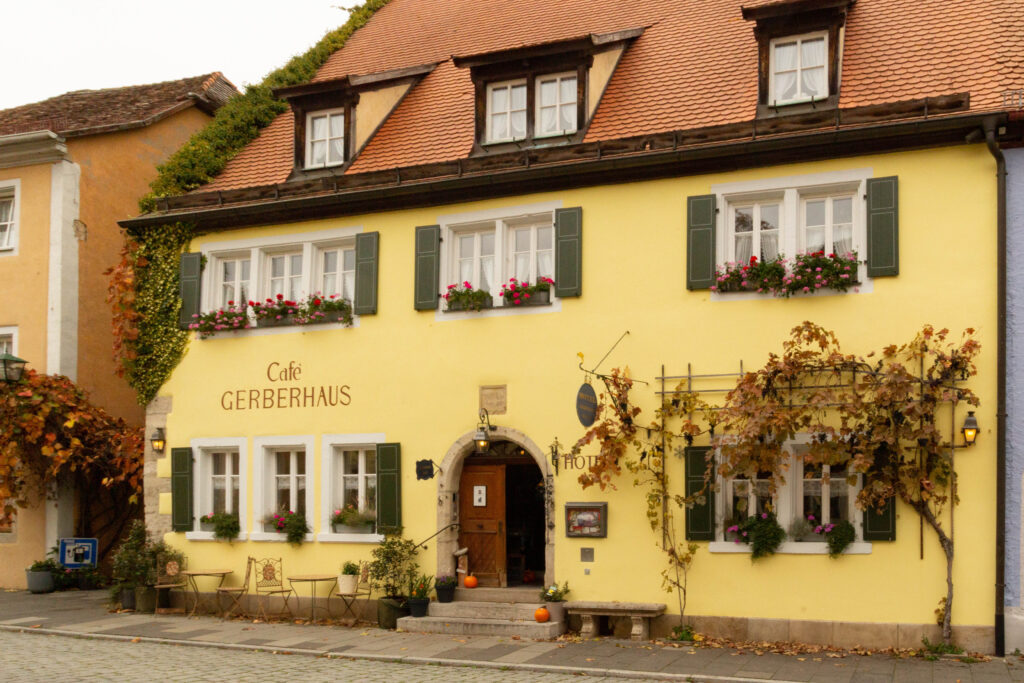 Once a very prosperous town, Rothenburg features many grand buildings, however it suffered terribly at the hands of the Swedish invading force during 1631 during the 30 Years War, and 3 years after the Swedes left, the Bubonic Plague swept through the town in 1634, killing many of the townsfolk. Bankrupt, and with no political power and few remaining inhabitants, Rothenburg had no need for further growth, a twist of fate that has seen it remain in such a well preserved 17th Century state.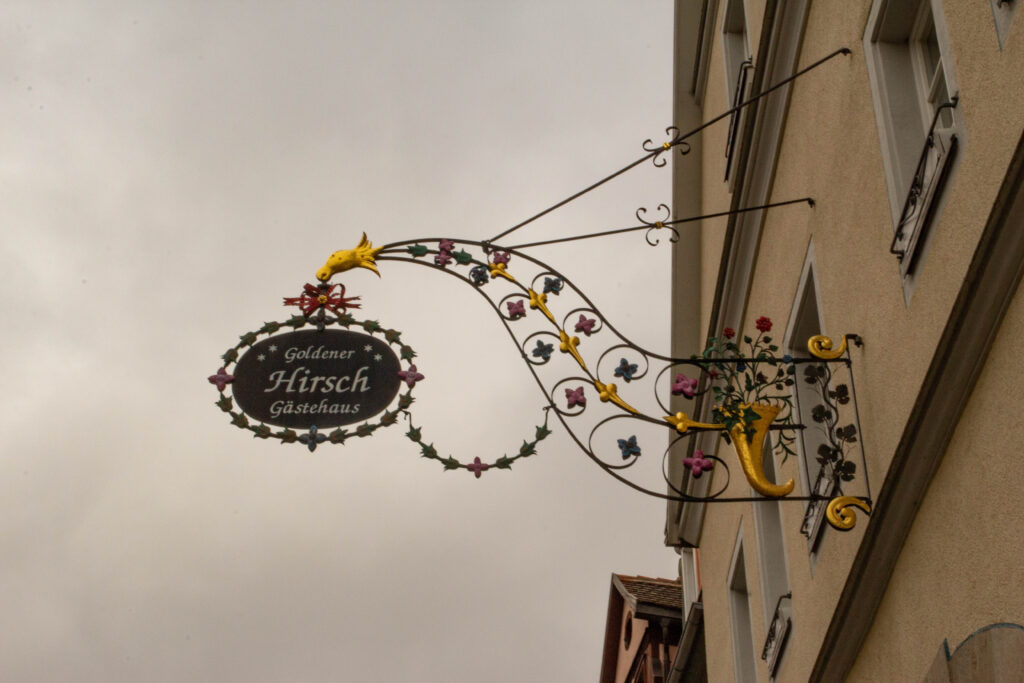 As is often the case, Vanessa and I decided to forgo the guided tour as we had already been here, and instead we wandered around through some of the areas a little off the beaten tourist paths, although of course we still made time to visit the Christmas stores and souvenir shops.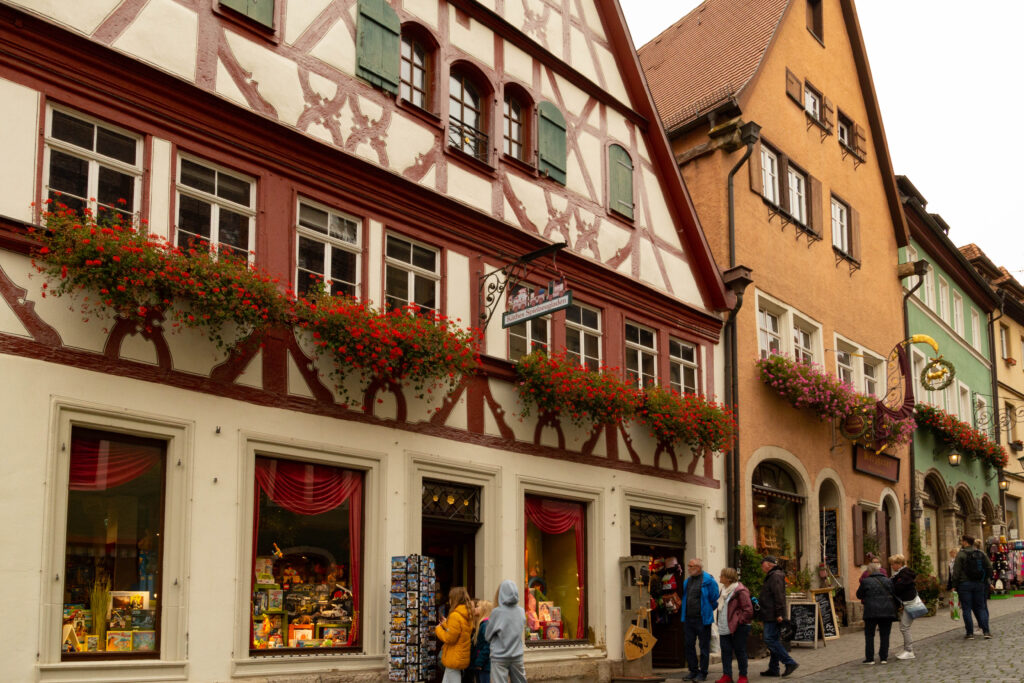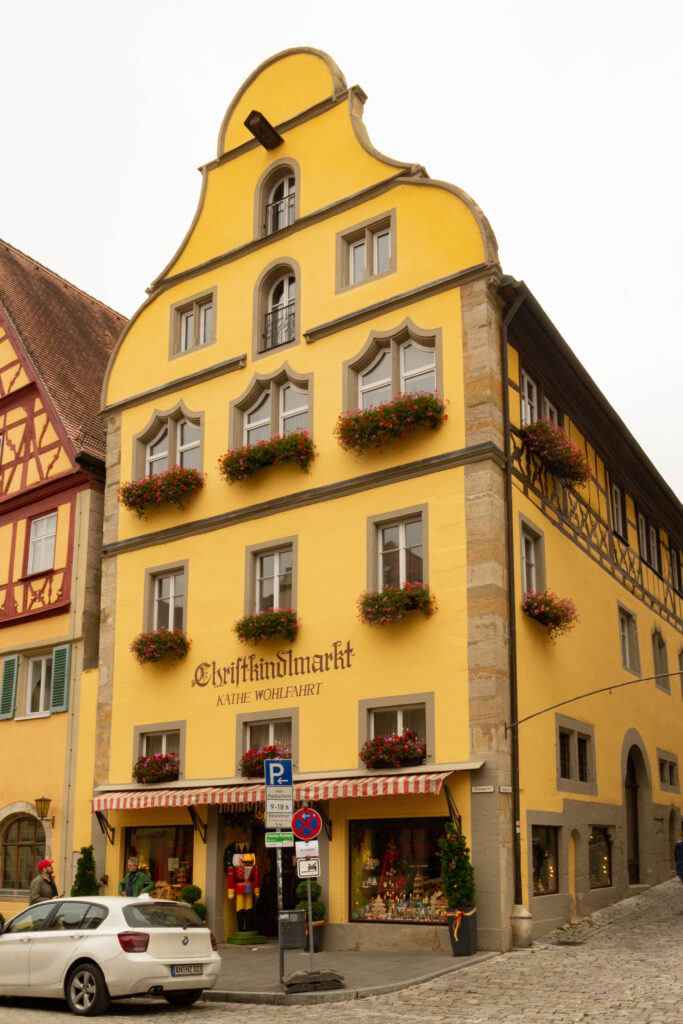 Much of the town has been overtaken with the Kitsch and commercial, but there are still some great local shops including wooden toymakers, a weaponry that specialises in swords and suits of armour (purely for ornamental purposes nowadays of course), as well as specialty butchers and bakers churning out the local delicacy of Schneeball, hard, deep fried dough balls responsible for breaking the teeth of many a tourist who doesn't realise you're supposed to break them up and soak them in your tea.
Having skipped lunch on the boat in favour of our earlier excursion into Würzburg, we stopped for a bite to eat in a local restaurant/pub that looked quite promising – Vanessa opted for potato pancakes with apple sauce, and I went for the local bratwurst with sauerkraut – both were awesome and went particularly well with a locally brewed red ale.
As is the case with all of these tours however, there's never enough time to see everything, and pretty soon we found ourselves back in the main town centre along with the rest of the group, waiting for the guide to escort us back to the coaches. We managed to get a show from the old clock in the old town hall tower where a scene of the town's mayor drinking 1 3/4 litres of beer that is based on a town legend that almost certainly never happened. I also had one last shot at recreating the Disney scene, and then it was back on the bus for the trip back to Würzburg, this time via the Autobahn rather than the Romantic Road.