Paris
All things considered, I should hate Paris.
Everything I despise about big cities, Paris has it in spades. It stinks, the traffic is a nightmare, it's crowded and full of rough sleepers, rude people, arrogant cyclists and impatient motorists who refuse to give way to anyone. It's noisy, with car horns and police sirens blaring at all hours. The public transport system is overcrowded and you have to constantly be on guard over pickpockets and scam artists trying to steal your possessions. There's cigarette smoke everywhere, and you have to walk around with one eye on the ground at all times due to the amount of dogshit left behind on footpaths. There are people openly urinating on building walls in the middle of the day, and piles of rotting garbage stacked up in doorways of abandoned buildings. Pretty much every reason I have for not wanting to spend any more time than I have to in the Melbourne CBD, it's ten times worse here in Paris.
But also in Paris, you can walk a couple of blocks from your hotel in pretty much any direction, and you'll find boulangeries that sell the most amazing freshly cooked baguettes, or patisseries with fresh croissants that crumble and melt in your mouth. You can sit down with a bowl of rich, deliciously dark onion soup in a brasserie on any street corner and watch a procession of daily life pass you by, or walk around a bend in the street and suddenly be stunned by an inspirational vista of a centuries-old church or cathedral. For every crappy memory I have of Paris, each time we visit, I take away a hundred more memories like this.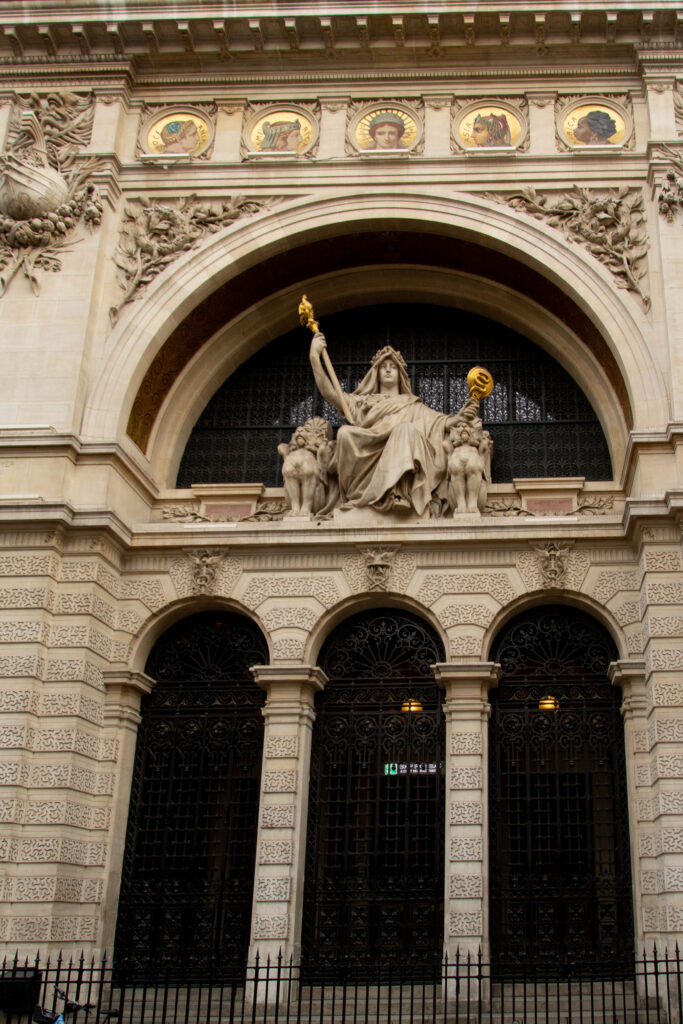 Take today for instance, which started out much like the other days this week, with a coffee and cake at KB Coffee Roasters, followed by a walk down another random street in order to find the suit shop that I'm starting to think may just have been a dream, and then a trip on the Paris Metro. We managed to wander all the way down from the 9th through the 10th Arrondissement, along rue de Fabourg Poissonnière and then across to Cadet Metro station, where we switched at Châtelet for line 4 to Cité. Our plan was to kill some time while we waited for a message from our friends Jackie and Geoff, who we'd met on the cruise, to say that they were on the hop-on, hop-off bus at their hotel and were on their way to our rendezvous outside Notre Dame Cathedral.
As we emerged from the metro station, we noticed something for the first time that we've probably walked past a dozen times previously and not seen – one of the hidden gems of Paris that is actually hiding in plain sight. Just behind the station entrance is a long row of shedding that is filled with nurseries – the Marché aux fleurs et aux oiseaux de Parismy. Upon first stepping inside, I was amazed to find a little section selling Australian native plants, including a couple of Grevilleas and several different Acacias. But the real gem here is the floral displays – as someone who has worked in the industry in the past, I know just how much work goes into setting up and maintaining these displays, and the ones here were fantastic.
Unfortunately it was really hard to get a good shot that would do it justice, as space is obviously at a premium here in the middle of one of the busiest parts of the city, and the narrow pathways were already crowded with shoppers.
We spent some time wandering through the displays before heading to a very touristic café near the church at Saint-Chapelle, where the queue to get in to see the stained glass windows was already stretched halfway down the street. Apparently it's worth standing in line for over an hour while everyone else around you smokes and coughs, but it's definitely not high on our agenda. We sat in the half-empty café for about 10 minutes while two waitresses completely ignored us and carried on a private conversation, then when Jackie texted to say they were 10 minutes away, we got up and left.
Outside Notre Dame, crowds of tourists were taking photos of the repair work that's going on after the devastating fire of 2019. In one of the ivy-filled garden beds nearby, a swan seemed to be contemplating its decision to bed down for the night in such a spot, as it was now the focus of nearly as much attention as the cathedral itself.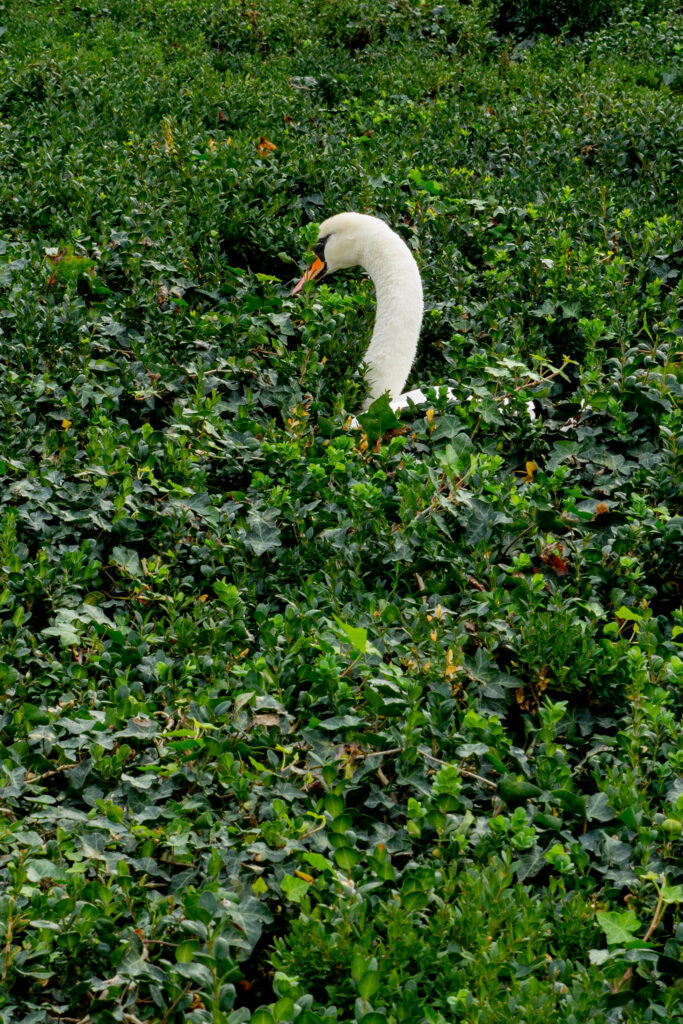 We took a few snapshots while we waited for the bus to arrive, then spent some time swapping stories of what we'd all been up to over the last few days since we'd left the cruise in Amsterdam. Then it was time to head down the street, past all the tacky souvenir shops to one of the places that keeps us wanting to come back to Paris every time – Au Vieux Paris d'Arcole.
This wisteria draped restaurant/café dates back to 1512 and we've never been disappointed when visiting here – it's tiny and quirky, but the food is delicious, and the waiter (sadly, I can't remember his name) is always an absolute scream. This time was no exception, with his face lighting up as we entered and asked for a table – "Ah! Australie! Kan-goo-roo!" he kept laughing as he showed us to our seats. Throughout the afternoon he would bring locals in to meet us – "Australie!" he would say, "Skippy la bush kang-goo-roo!"
The next thrill came when we asked to see the wine list. I was already prepared for the response, a wave of the hand and a point to the steep stone stairway that leads down into the cellar, but it's still a wild ride every time trying to make your way down there and back up again without falling to your death. You pick whatever wine you like from the various boxes – the prices are all marked on the box. We chose a viogner and a red Burgundy and carefully climbed our way back into daylight.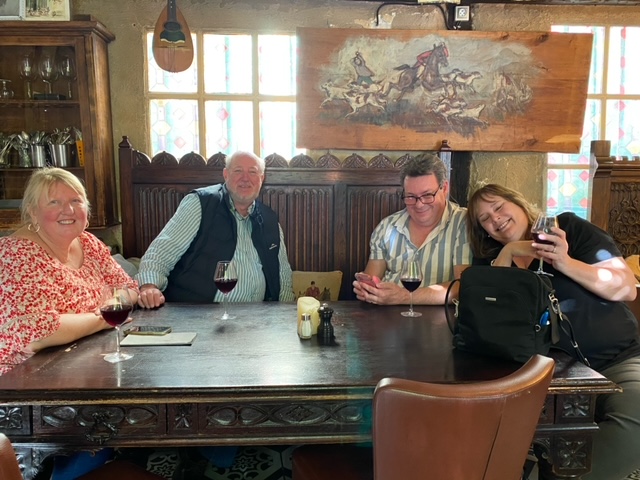 Lunch was delicious (as always) – the best onion soup you'll ever taste, along with some excellent duck dishes. We laughed and joked with the waiter, and a couple of local ladies at the table behind us also joined in, despite not understanding a word we said and vice versa. Then a couple at the table next to us – Matt and Chelsea from Denver, Colorado – also joined the fun, which sent the waiter off into another frenzy of laughing and shouting – "Denver, Colo-raaado! Denver, Colo-raaado!" in his least worse American accent.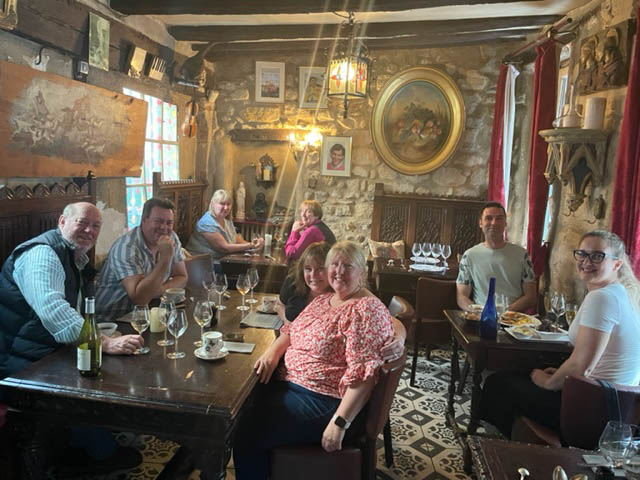 Turns out they were on their way to London to see the Denver Broncos play against the Jacksonville Jaguars in a game of American football at Wembley Stadium, which they were kind of dreading due to a recent Broncos form slump (turns out their fears were unfounded as the Broncos beat the Jaguars 21-17).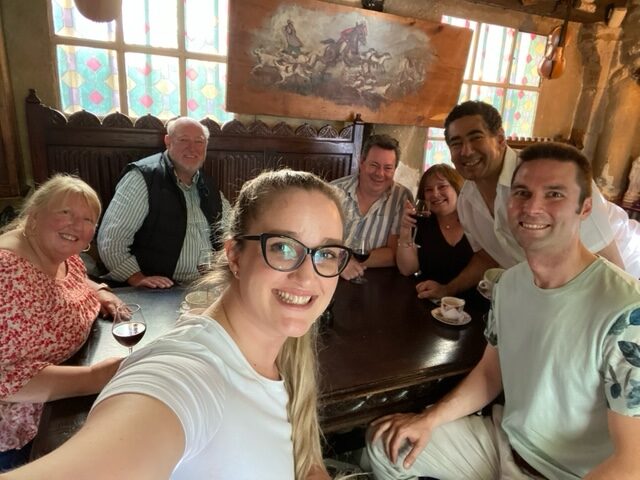 Along the way they decided to stop in at the café where Matt had proposed 7 years earlier. Matt insisted on buying the next round, so another trip to the cellar was in order, and another bottle of Burgundy found its way to the table. What had shaped up to be a quick catch up with a couple of friends turned out to be one hell of a fun afternoon, with some new friends made and a barrel full of laughs along the way. And that's why we love Paris.