Vienna
As mentioned in the previous day's post, one of the options for today's tours was a coach trip to nearby Bratislava, a trip which we had originally planned to do, having assumed that we would have had time the previous day to explore Vienna. However, as we hadn't arrived in Vienna until nightfall, we made the decision instead to remain in Vienna for the day, and head off on a 'Coffee and Cake Culture' walking tour.
The Scenic Jasper was docked for the day immediately below one of the main bridges that connects the Danube Island area to the old town of Vienna, right across from the St. Francis of Assisi Church.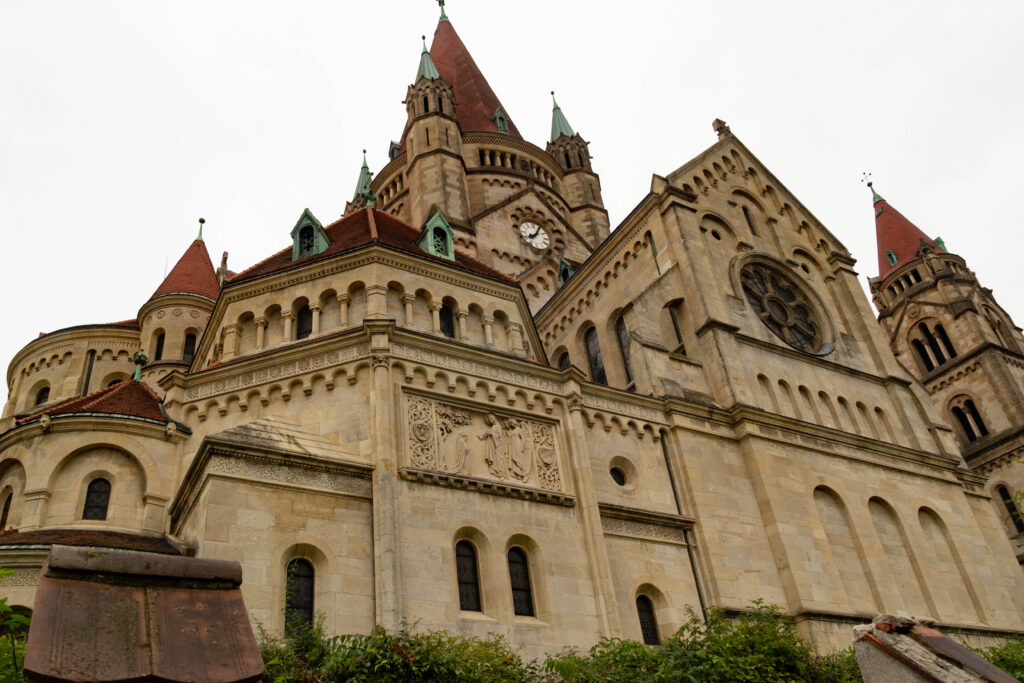 I'd already walked into the old town on the previous evening, so my tired legs were glad to see a Scenic tour bus parked outside for today's tour. It began with a drive around the Ringstraße (pronounced ring-strauss), a grand boulevard lined by gardens and impressive buildings, built in the historicist style. The Ringstraße replaced the former 13th Century city walls, and because of its architectural beauty and history, it has been called the "Lord of the Ring Roads".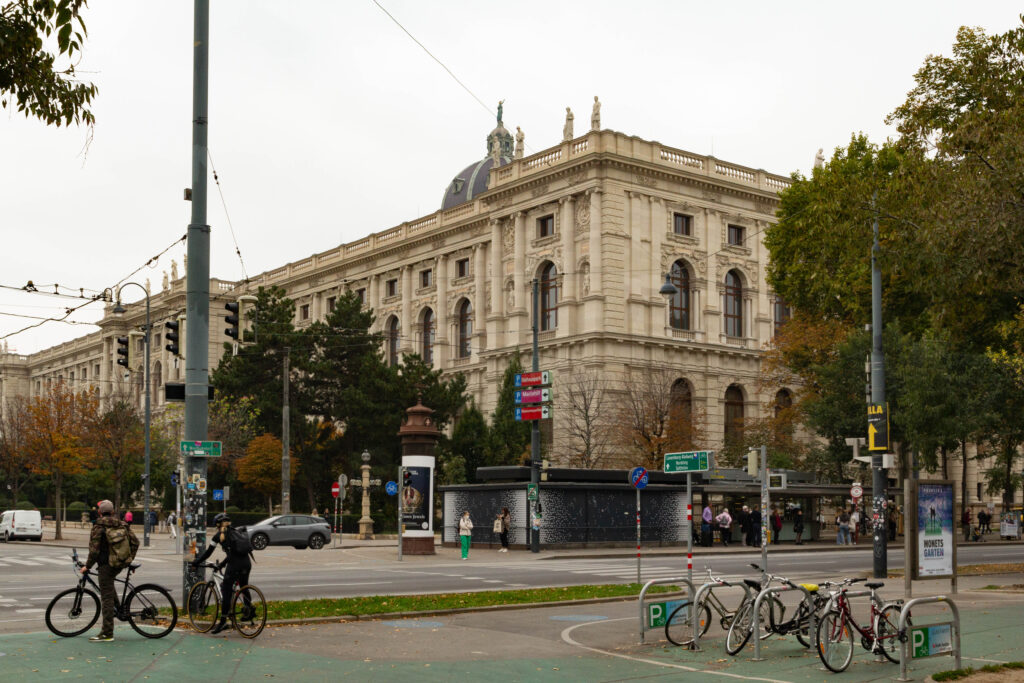 The coach then dropped us outside the Vienna State Opera, opened in 1869 and built in a Renaissance Revival style. It was actually incredibly unpopular as a building when it first opened to the public and was also disliked by Emperor Franz Joseph I, the man who paid to have it built. So much so, that one of the two architects who designed it committed suicide 3 years before it actually opened. In a cruel twist of fate, the other architect died of tuberculosis 10 weeks later, so neither saw it completed.
Outside the opera, a man dressed as Mozart who was supposed to be promoting an upcoming concert, was instead having a loud and angry screaming session into his mobile phone, conjuring up all sorts of anachronisms. Come to think of it, it may have been a perfectly friendly conversation – with the German language, it's very hard to tell.
Across the road from the opera stood the Hotel Sacher, famous as the birthplace of the Sacher torte, a delicious chocolate cake with apricot jam. Unfortunately our coffee & cake tour didn't include any of this though, so we instead made our way past the hotel and down the street to Conditorei Sluka, one of Vienna's famous coffee houses.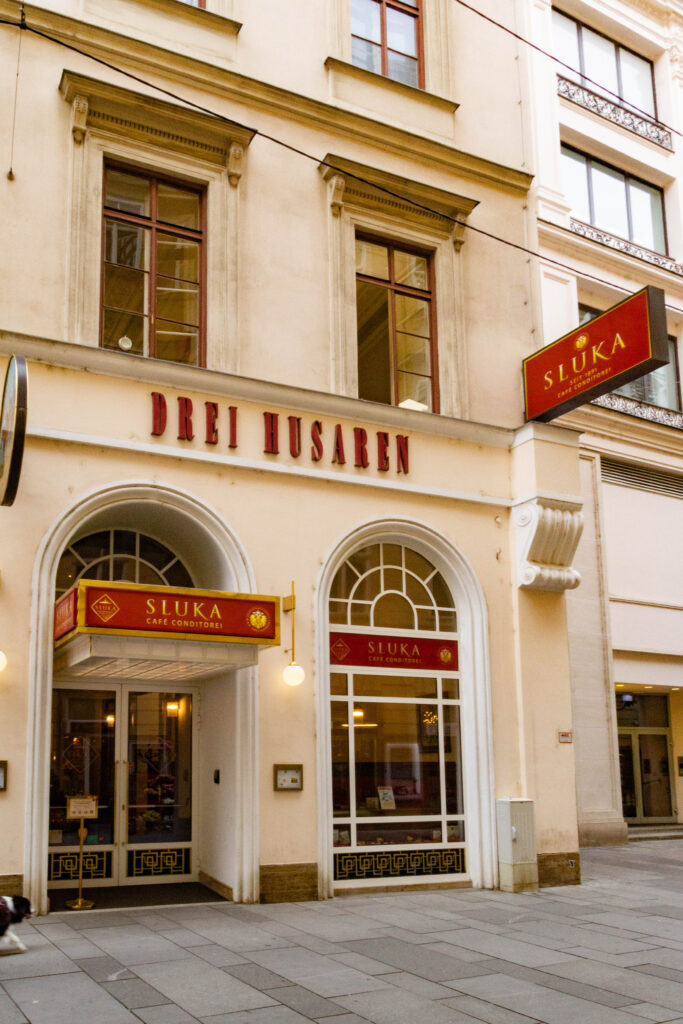 Inside we were treated to a slice of apple strudel and a choice of black coffee ("Americano") or frothed milk coffee ("Melange"). Our guide explained the importance of coffee houses in 19th and early 20th centuries as a meeting place for intellectuals, artists and political activists, and how they were places for the Viennese to catch up with international news. Ironic really, as we spent most of our time inside on the phone back home to Mark's mum, catching up with news of the devastating floods that had currently surrounded our house and cut off our town from the outside world.
To be honest though, it wasn't much of a tour, so as soon as we had finished the coffee and strudel, Ness and I headed out to spend the rest of our time looking at Vienna at our own pace.
Of course, the central attraction in Vienna is St Sephen's Cathedral (Stephansdom), which is used by most tour guides as a reference point when directing people on how to get back to their coaches. We pushed our way through the crowds outside to get a few shots, but baulked at standing in a queue to get inside.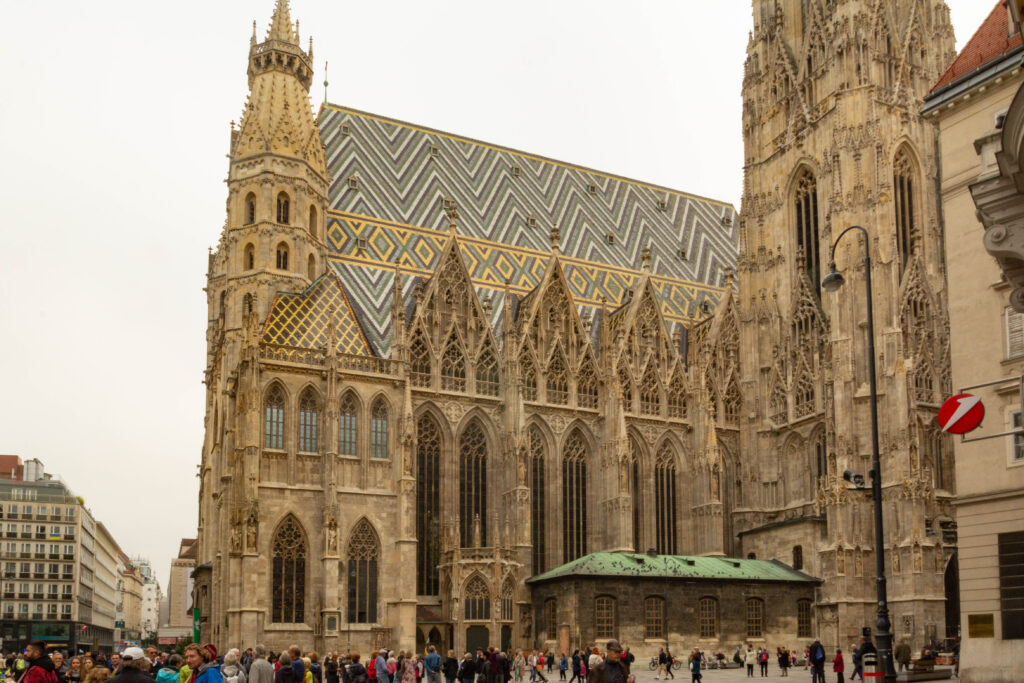 Instead we wandered a few streets away, stopping in to look at a few shops that specialised in high-end cuisine ware and homewares, until we came across another church tucked away in a back street – Franziskanerkirche (Franciscan Church). Far less striking from the outside, but the interior was absolutely stunning.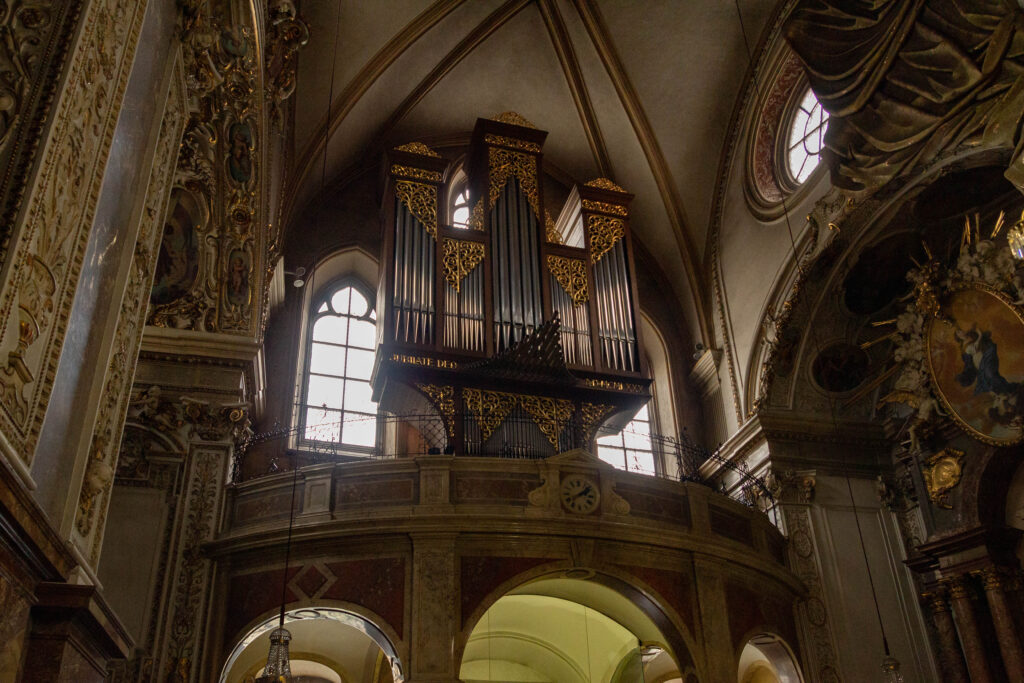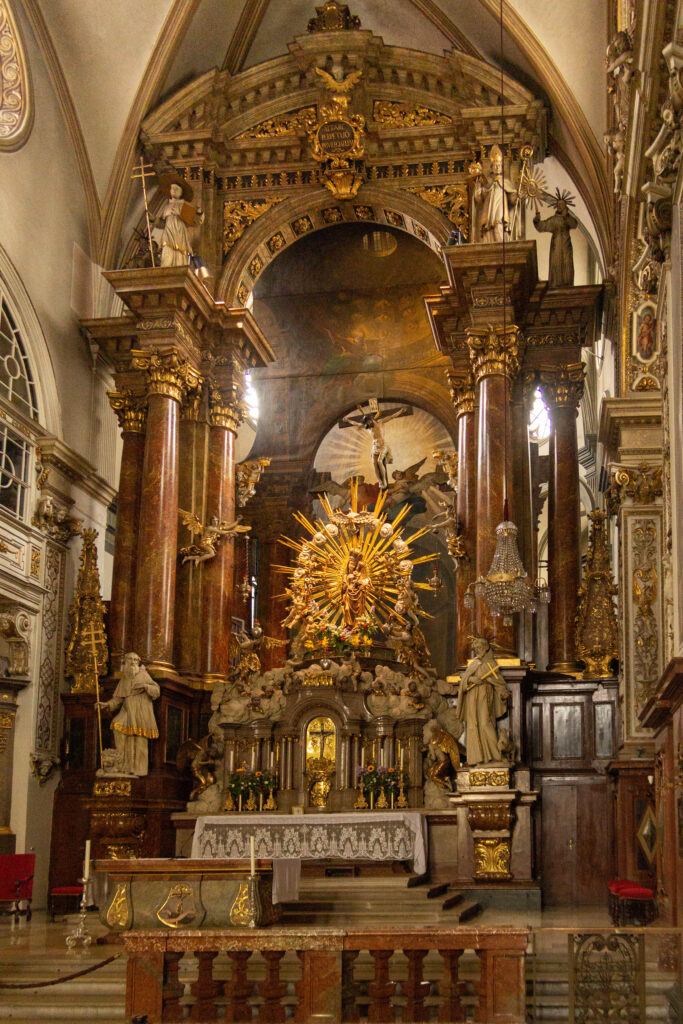 From here we headed back out to continue window shopping, although we did end up spending some Euros at a L'Occitane store and a few more at a stationery shop. I did somehow manage to resist purchasing a magnificent tie which I'll probably later regret – there really are some awesome stores in the old town centre.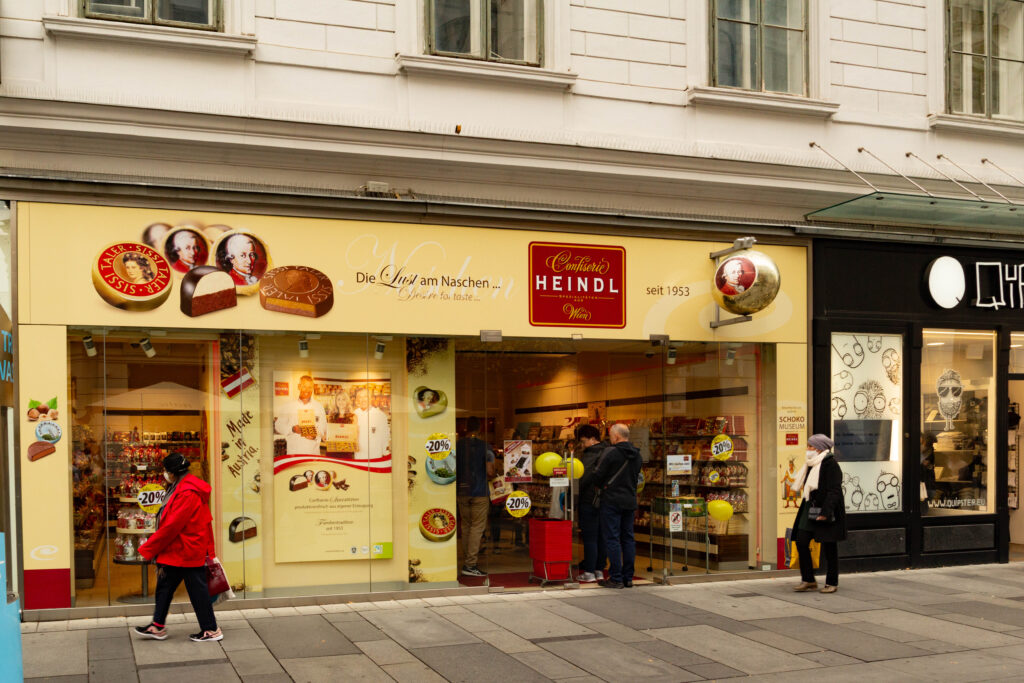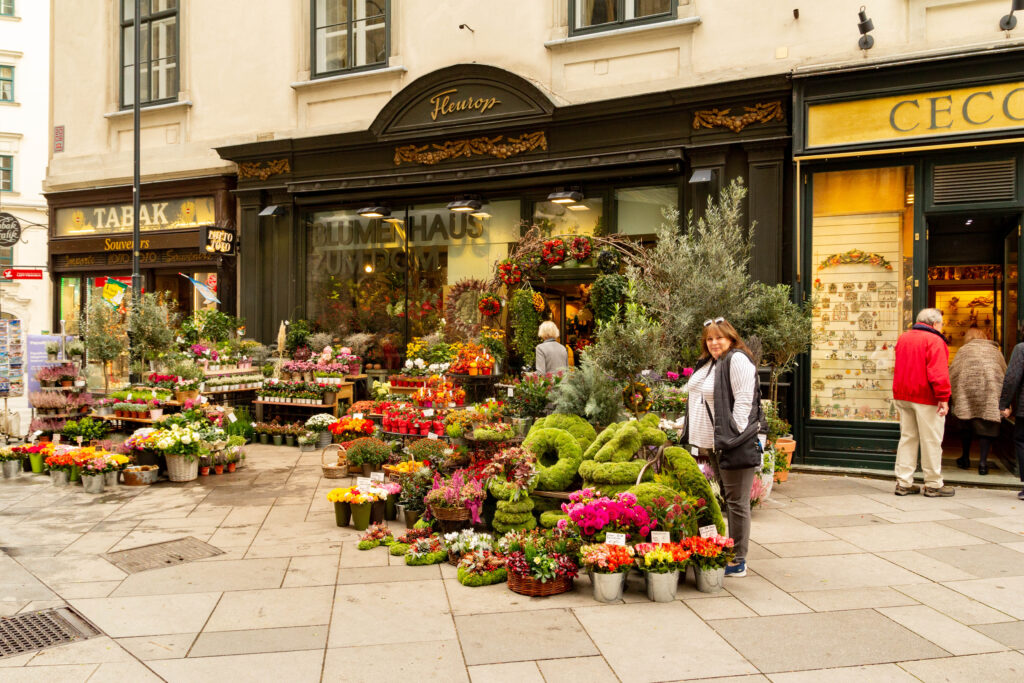 Eventually it was time for lunch, and when you're in the home of the Weiner Schnitzel, it would be criminal not to have some. So we found a pub/brewery called Stadtboden that was advertising 'original Weiner schnitzels' with a free side – Ness ordered chips and I ordered onion rings – and to wash them down we ordered two pints of a locally brewed Belgian pale ale. The meals and the beers were all fantastic, probably the best of the many schnitzels we've had so far on this trip, and a place we would thoroughly recommend.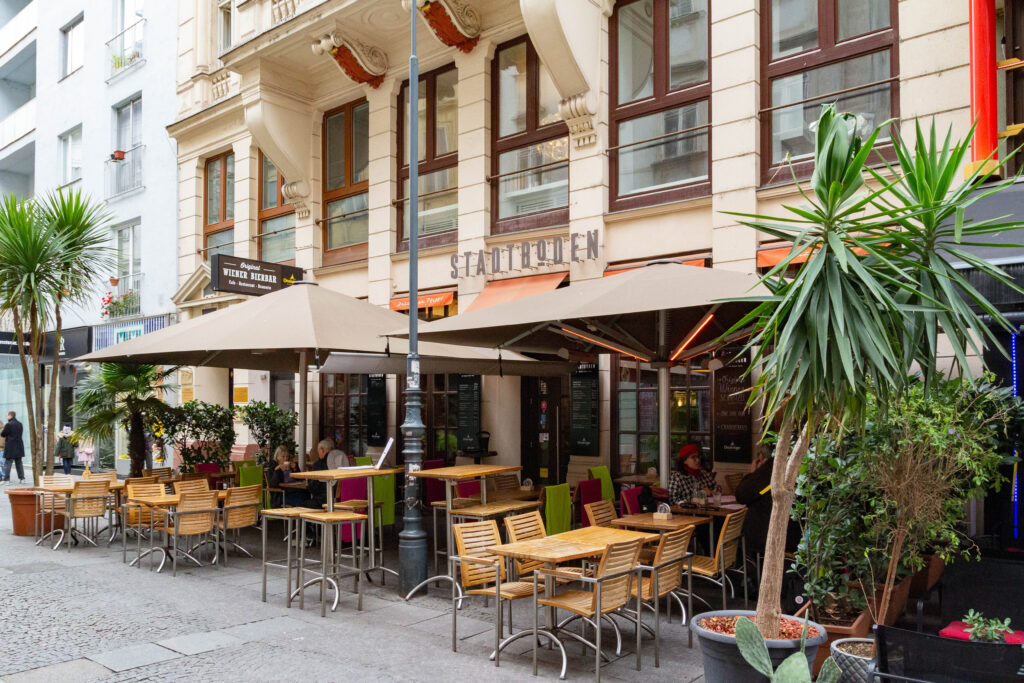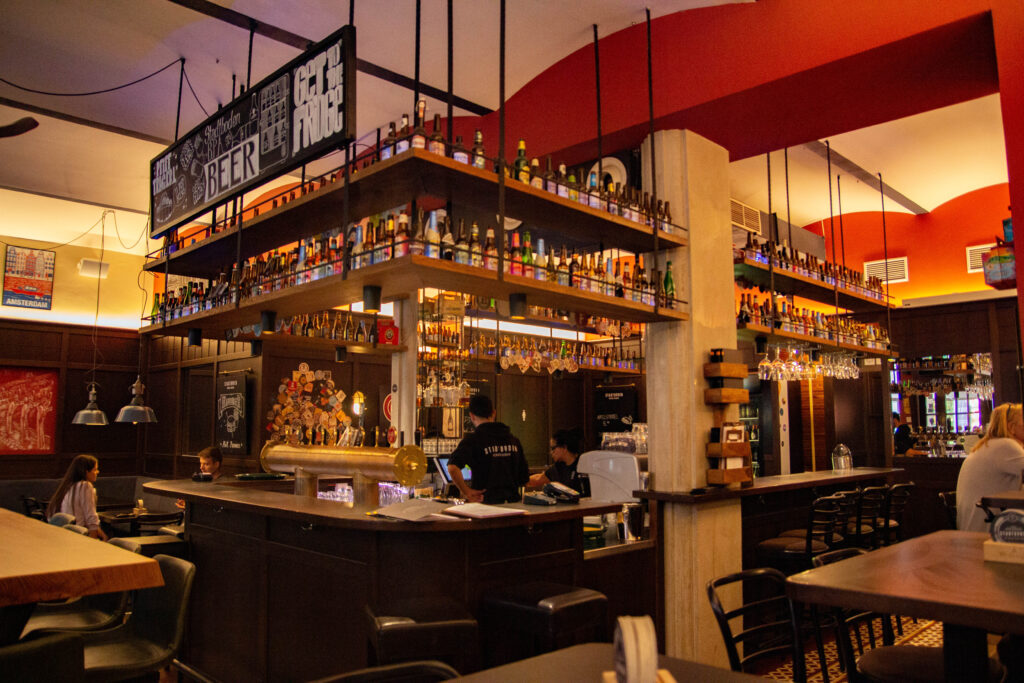 Following lunch it was time to head back to the shuttle bus service that Scenic had set up to ferry people to and from the boat during the afternoon, but first I had a side mission, to continue my quest of grabbing a photo of the parliament building in every capital city we were visiting.
The parliament in Vienna is actually closed for renovations – they're doing a complete clean and restoration of the stonework. Which is funny, when I think that the same project has been underway at the Victorian parliament since well before I started there 13 years ago. I can't imagine how well it would have gone down if the parliamentary sittings had had to be relocated for all that time.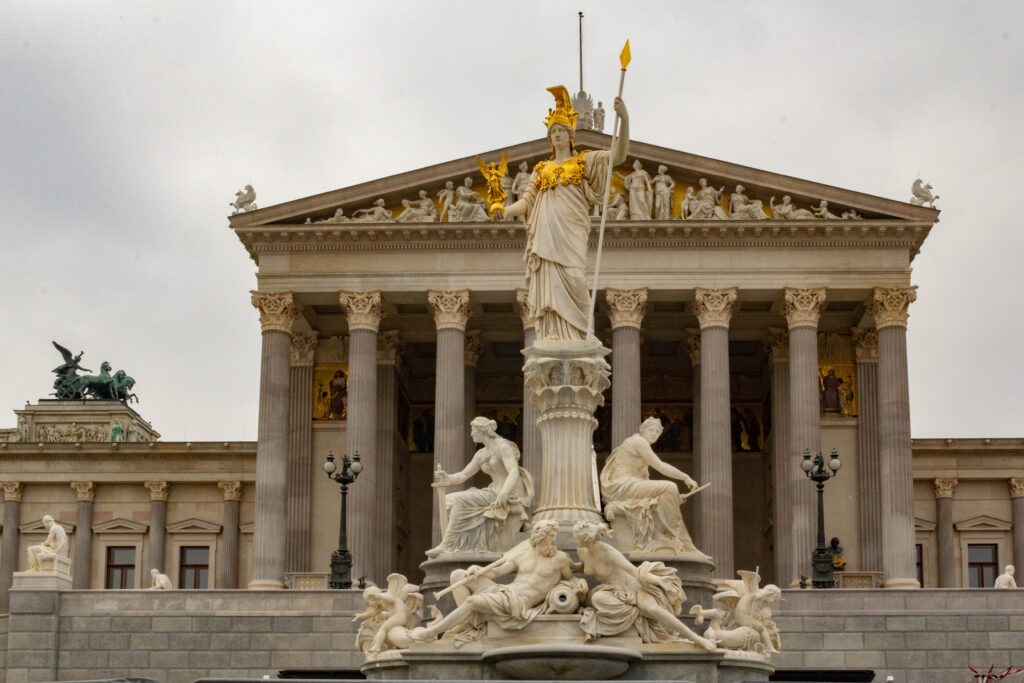 Just beyond the parliament building I could see the spire of the magnificent Rathaus (town hall) building, where 8 years ago we had attended a grand Christmas Market, however with Vanessa waiting for me in the gardens back at the Winter Palace, I had to turn around and start heading back.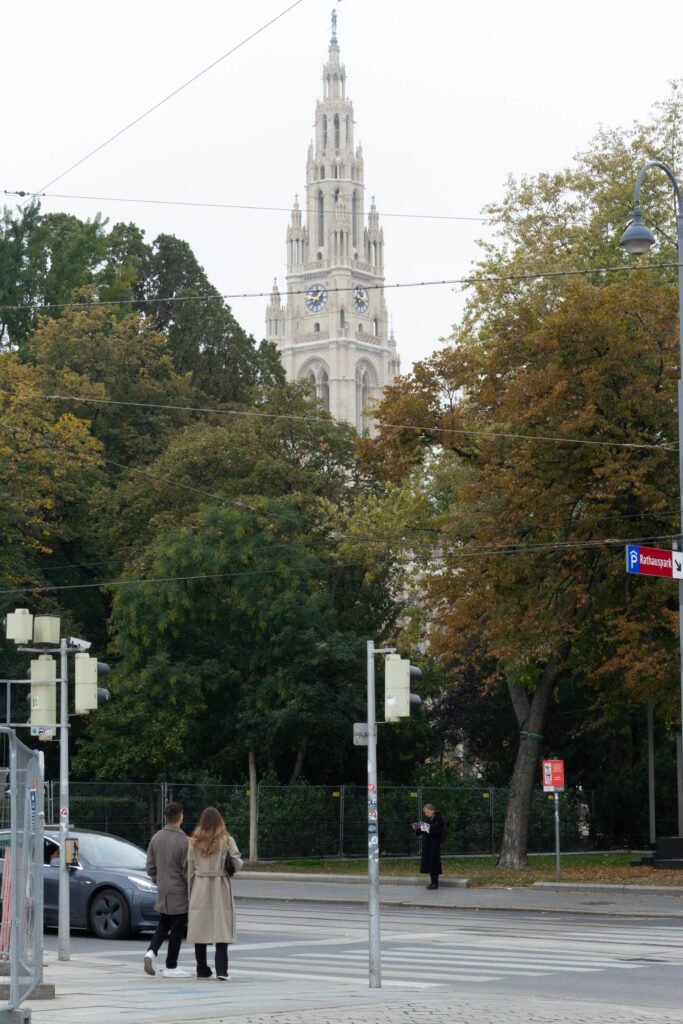 I made my way back along the Ringstraße to the Winter Palace, where we took a shortcut through the gardens and headed back towards the bus park at Schwedenplatz.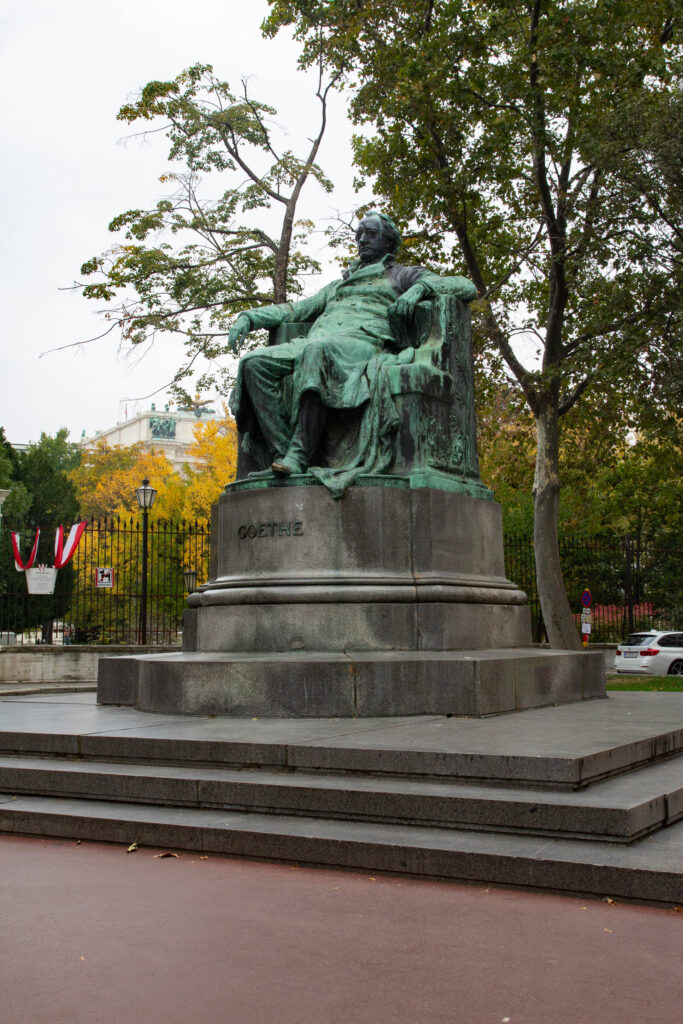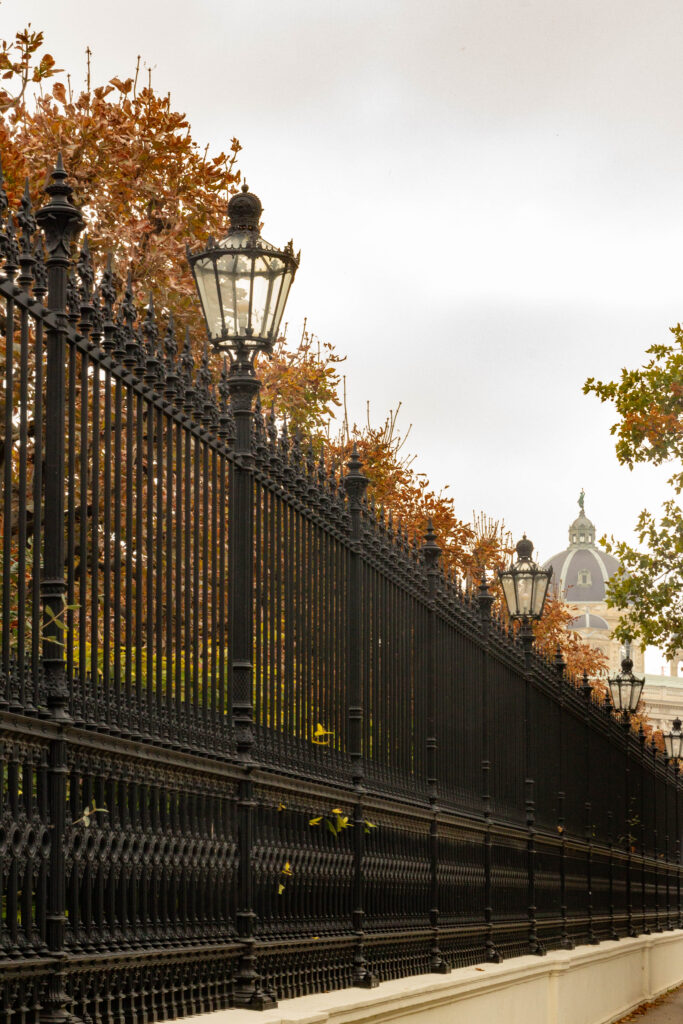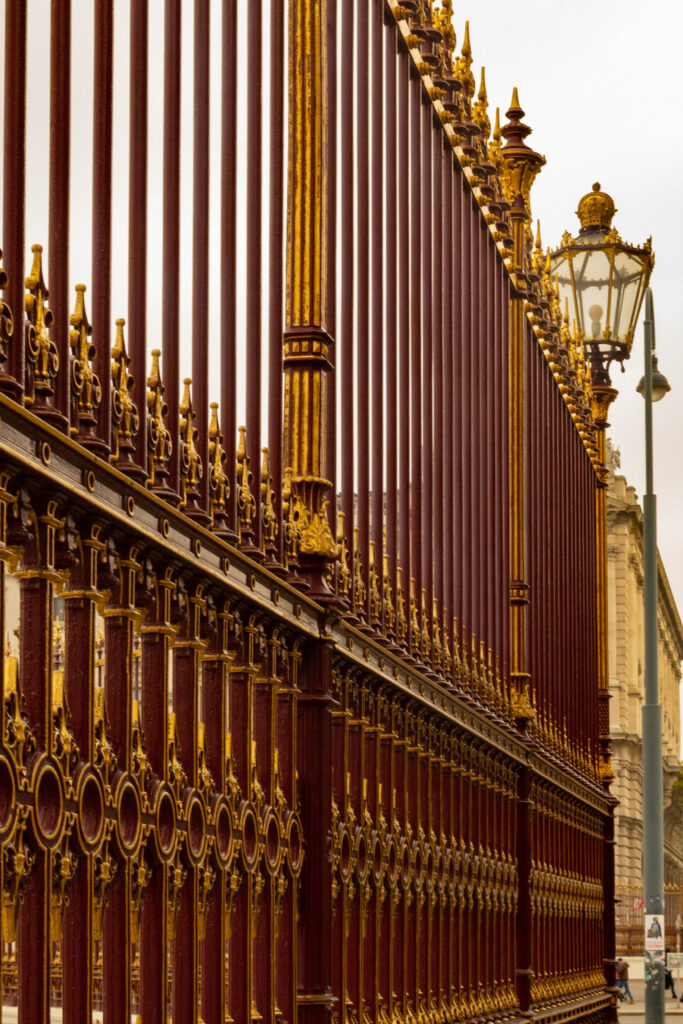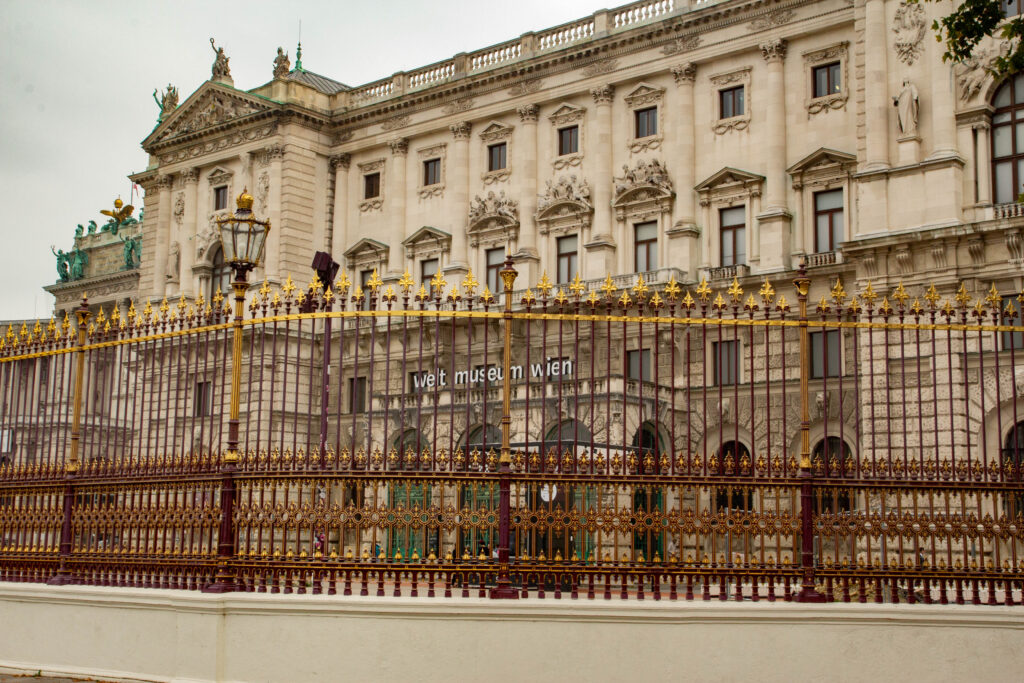 Back at Schwedenplatz, we had a 15 minute wait for the bus, followed by another 15 minute trip back to the boat. It's a shame that we didn't get to see Bratislava, but in the end, the chance to spend a day in this beautiful city had been too much of an opportunity to pass up, and once again Vienna had delivered in spades.