Cologne
In which I almost completely forgot to take pictures of one of Germany's most famous landmarks.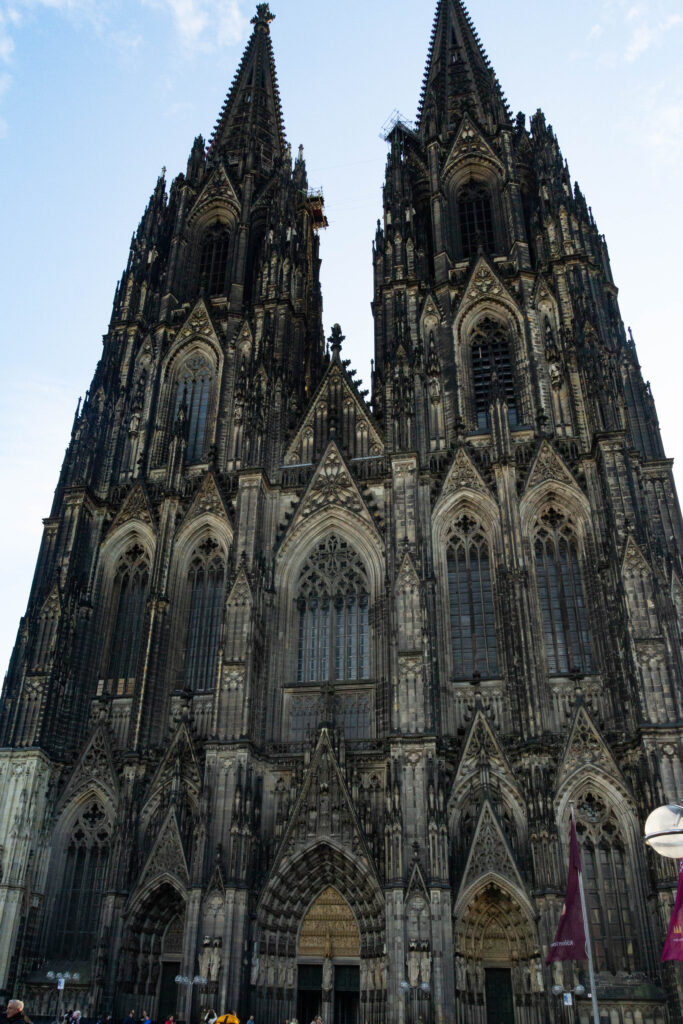 Our final day in Germany saw us docked in a port usually reserved for industrial vessels, as due to low water levels on the Rhine (which thankfully hadn't affected our trip until now), we were unable to moor up closer to town where the cruise boats normal dock. Added to this was a major conference currently taking place in town, meaning coaches were scarce, so all of the walking groups for the morning had to be ferried in on a couple of buses at 9:00 am
Vanessa and I weren't joining any official tours, choosing instead to spend the morning exploring the old town on our own, so as soon as the coach pulled up a few blocks away from the cathedral, we legged it. We stopped for coffee at a fabulous café that served the most amazing looking breakfasts in 'high tea' style, and we cursed ourselves for having already eaten on the boat. The next stop was an incredibly helpful camera store, to pick up a replacement eyepiece for my Canon, which annoyingly and frequently falls apart – I normally carry spares, but had already exhausted my supplies earlier in the trip.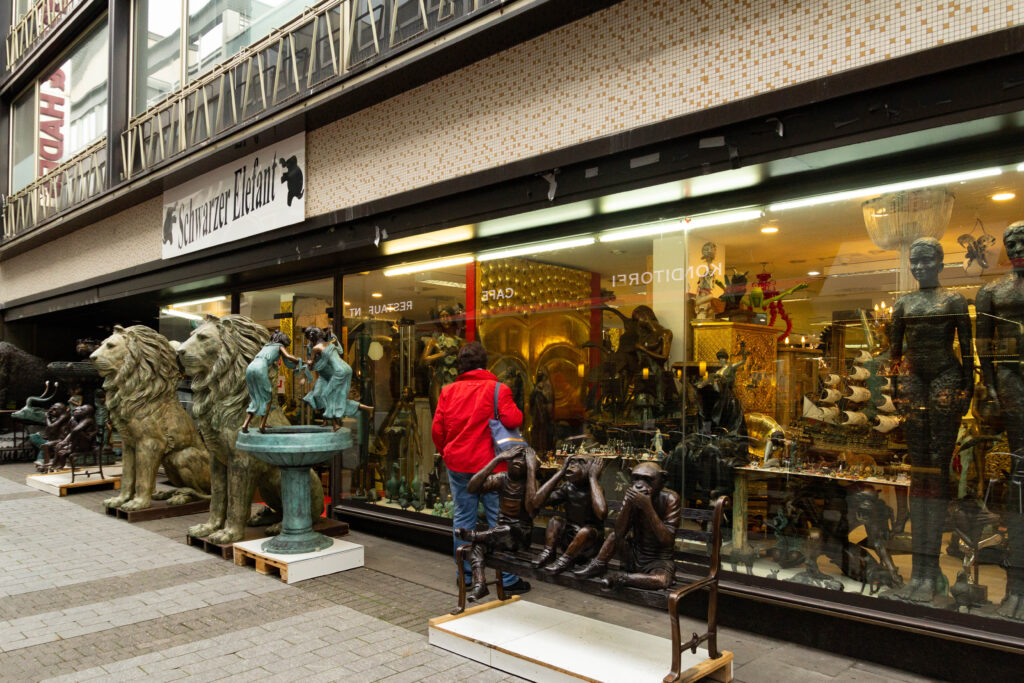 Tucked away in a side street we found a display of some incredibly awesome looking sculptures and garden ware – they had some pretty hefty price tags too, and perish the thought of ever trying to get them sent back to Australia, but I would really love to see Reinhardt and Heide's reaction if we rocked up after a month away with two massive lions or a life-size silverback gorilla in tow.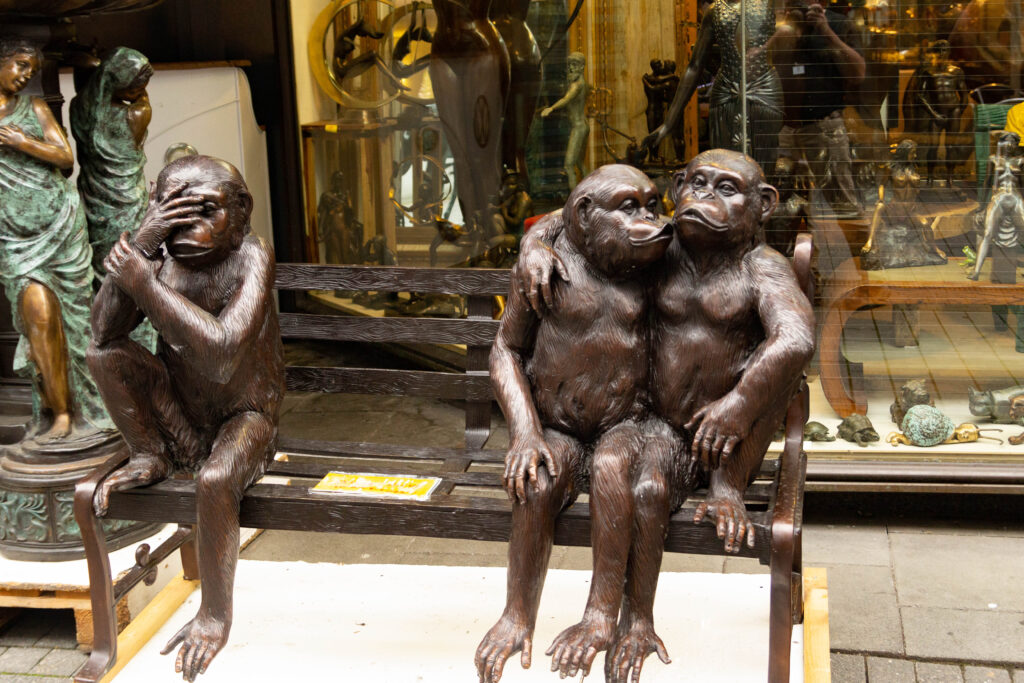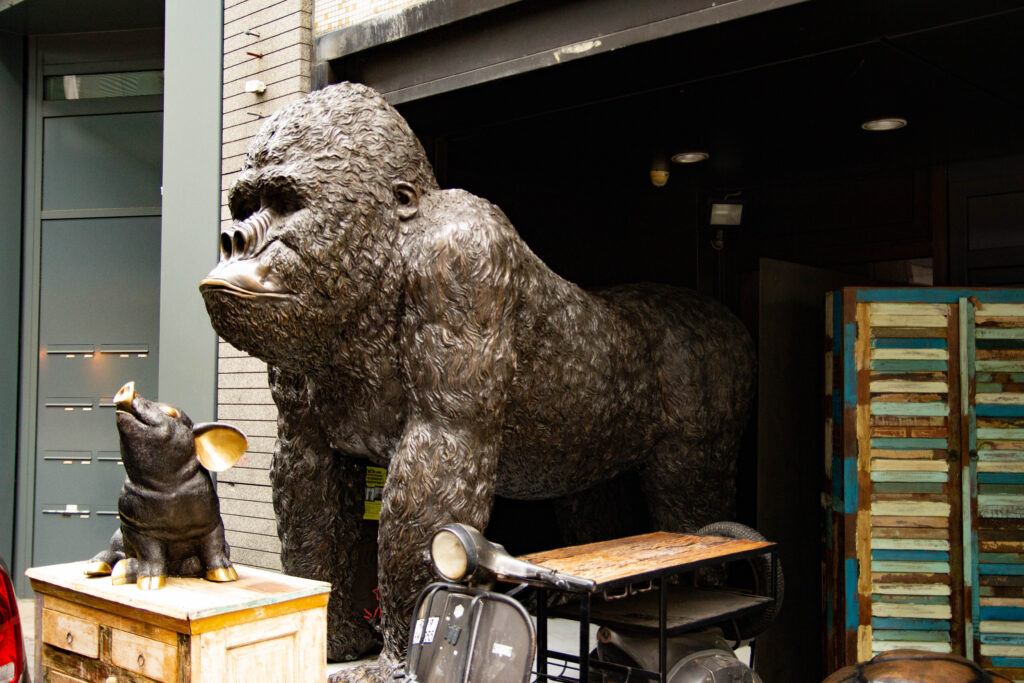 We stopped in at a few clothing stores and a Lego store where we politely declined the eager sales rep's offer to order in the Titanic kit for us, as we're not sure when we might next be in town. Finally, it was off to Café Reichard, where 8 years ago we'd encountered one of the rudest waitresses we'd ever met – thankfully this time around the wait staff were all incredibly friendly and helpful, although I think we may have sparked a demarcation dispute at one stage when we tried to order coffees from a waitress not assigned to our zone. If you're ever in Cologne, you really do have to check out Café Reichard, not just for the amazing and delicious cakes, but also for some of the nicest looking toilets you're ever likely to see – 50c admission, but well worth the price.
It was while sitting outside in the glorious sunshine at Café Reichard, watching the hordes of tourists thronging around the front of the plaza, that I realised I hadn't actually taken any photos of the cathedral itself. So with a half hour at least until we were due to return to the buses, I wandered over for a quick look inside.
Of course the little 17-50mm Tamron zoom lens I use for walking around can't really cut it when it comes to trying to show the sheer scale of the cathedral, but it does allow me to shoot hand-held in low light with reasonable results. There's no wonder that this building is one of the most visited landmarks in Germany – it is simply astonishing.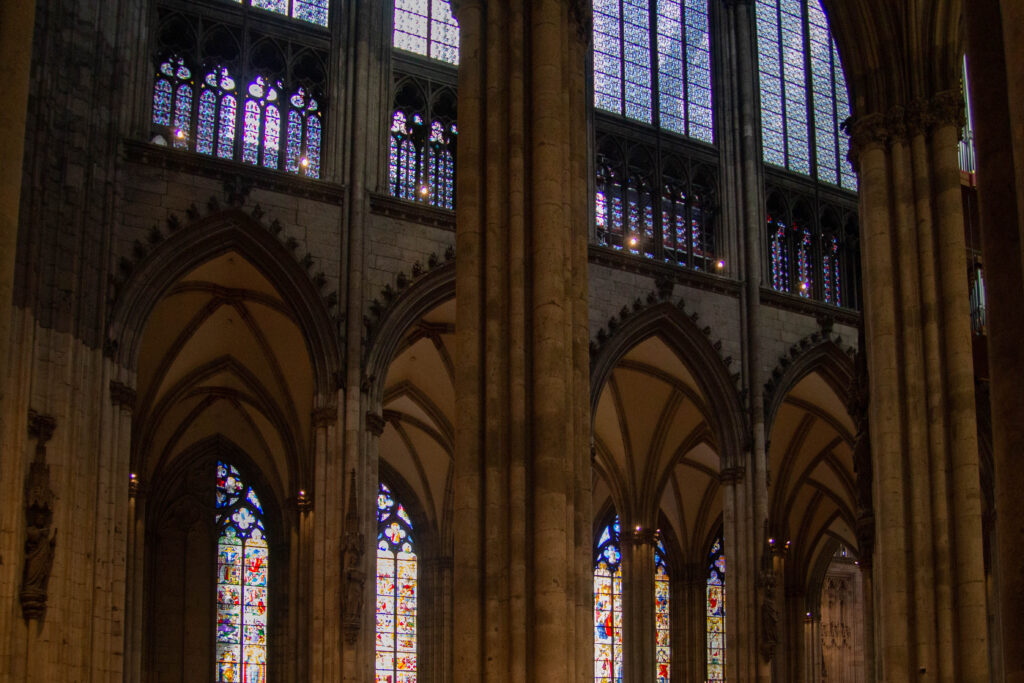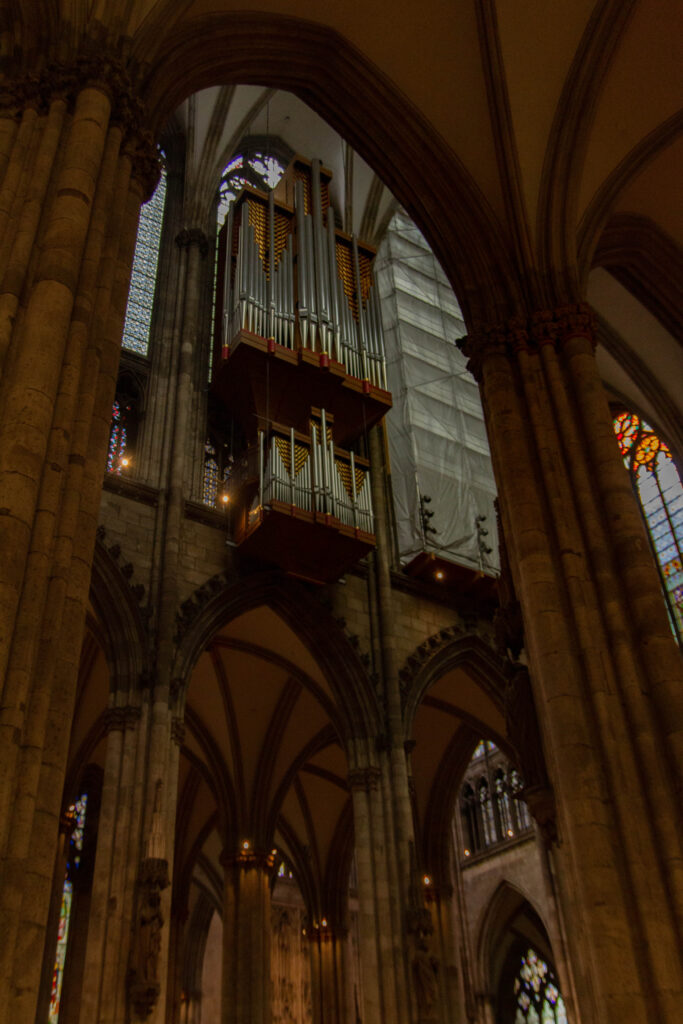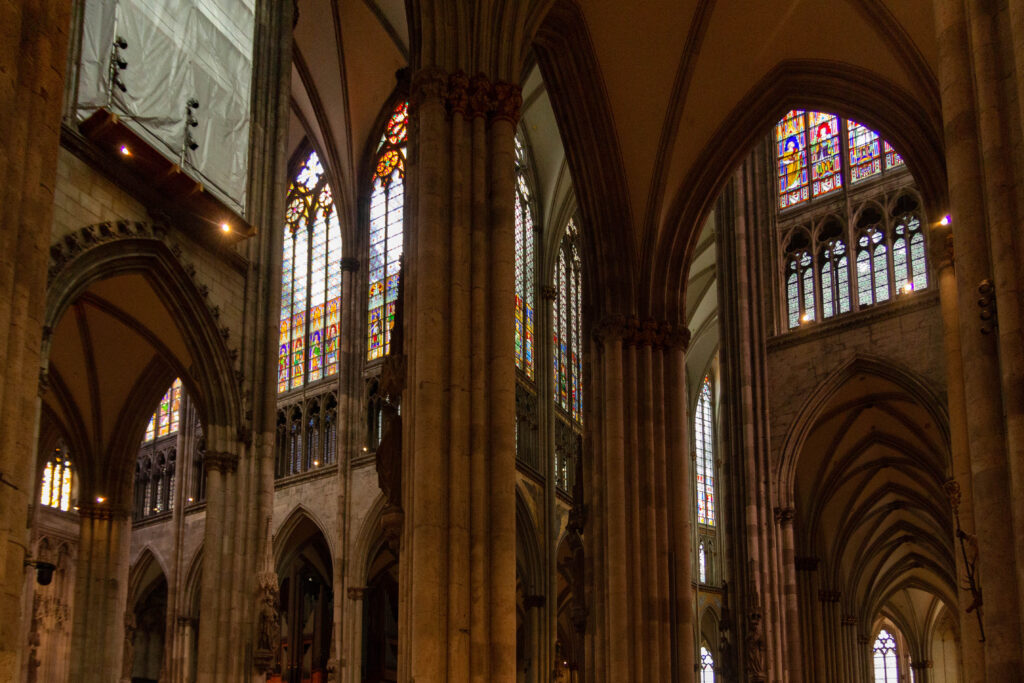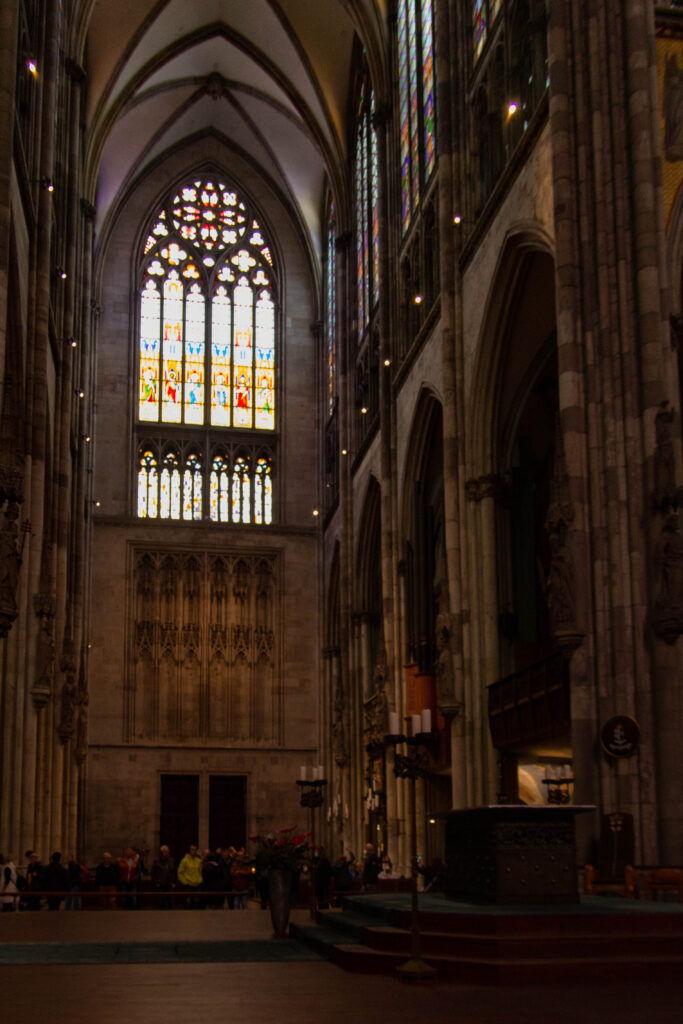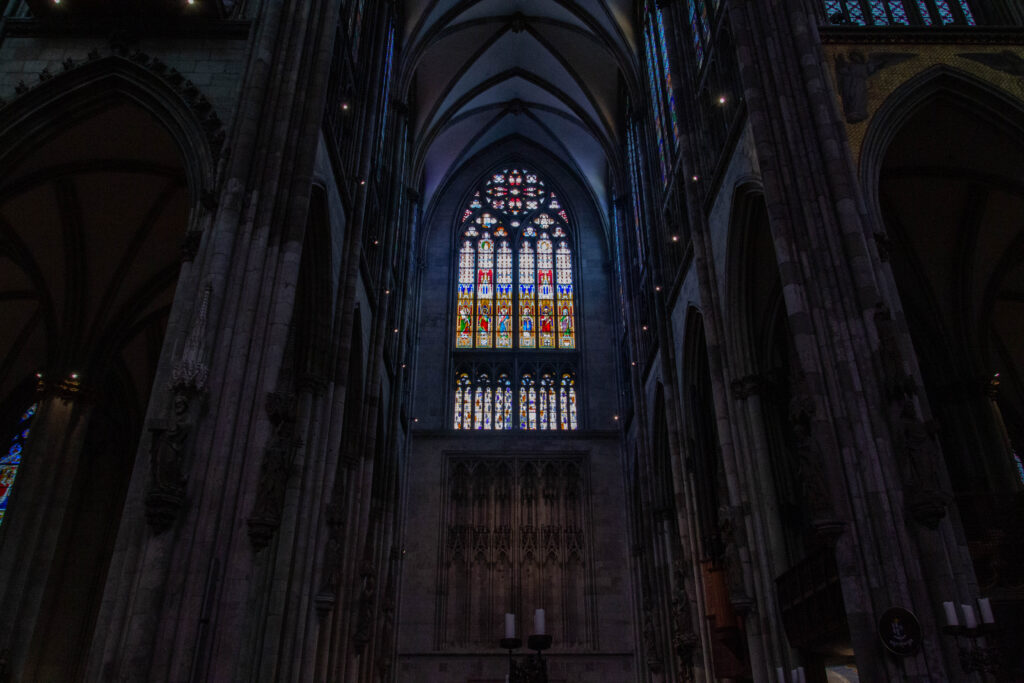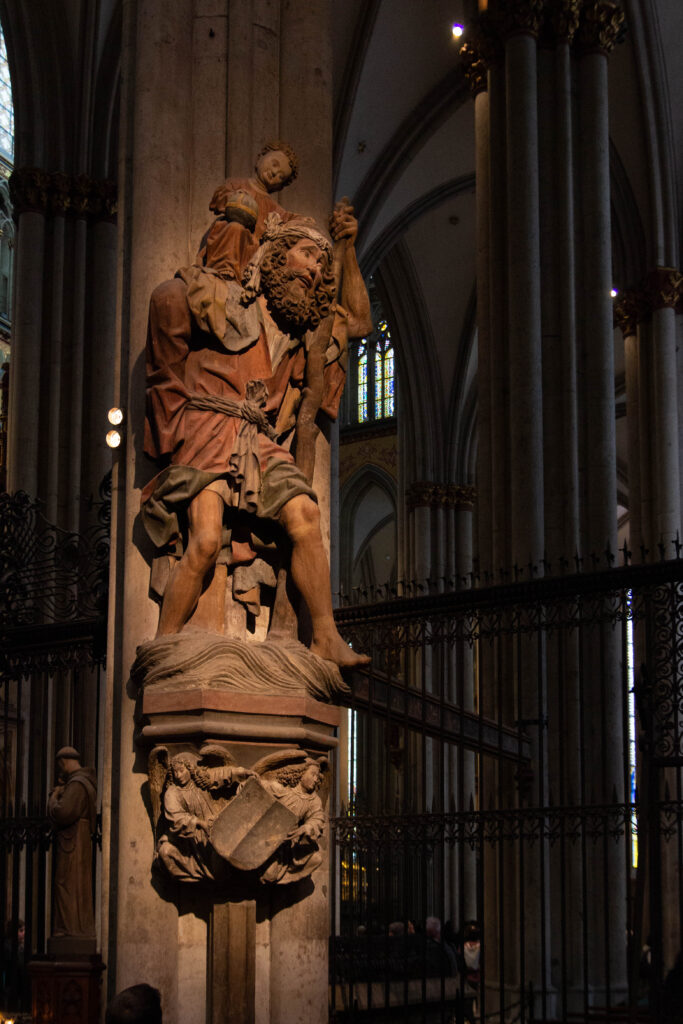 Of course, all good things must come to an end, and soon it was time to get back on the coaches and back to the ship. We actually arrived at the bus stop a couple of minutes ahead of schedule to find the buses weren't there yet – at which stage a couple started whining loudly in their thick Yorkshire accents about "another Scenic stuff-up", obviously in reference to the late arrival of the ship back in Miltenberg a few days earlier. Of course, there was no apology to the cruise director two minutes later when the first coach swung in right on time and they rushed to get on board. Honestly, what is it about this kind of holiday that attracts such miserable gits?
Back on board, it was time for lunch, and then a warm, relaxing bath, complete with a sickly pink strawberry bath bomb from Lush. (And that, folks, is one of the main reasons why it's worth shelling out the extra for a Royal suite). For the rest of the afternoon we cruised through some fairly uninteresting scenery on our way to Amsterdam, although we did get to see Dusseldorf during daylight hours for the first time as we motored by – and from what we saw from the boat, the waterfront area looks to be a thriving spot, with live music, restaurants and lots of people out enjoying the sun. Certainly one for future reference.